Updated by Gary Ploski
The Opal + Social Studio integration makes it easy to publish content easier.
Opal and Social Studio work together to help you and your team promote your brand narrative and connect with your customers.
Note: When content receives a final approval it will be delivered to Social Studio in a draft state. You or your colleagues will need to log-in to Social Studio to review the content and schedule it to publish immediately or at a specified day and time.
Important: This integration is no longer available as a new integration. For existing customers with an active integration, you will continue to have access.

Deliver Content
When content requirements have been met, and receives final approval, the following will take place:
Content is delivered

Copy
Assets
Note: Content is delivered every five (5) minutes after receiving final approval.
Important: Notes and labels are not delivered.
Supported Content Types
This is the latest list of content types that are currently available. We continue to expand the available supported content types.
Facebook
Single Image
Multi-Image
Video
Link Post
Dark Post
Twitter
Single Image
Multi-Image
Video
Instagram
LinkedIn
Weibo
YouTube
Supported Files
All image and video asset types can be delivered.
Important: Video files under 15 MB and most under 50 MB.
Select an Integrated Account
When an account is integrated with Social Studio, you will have access to deliver your content and assets from Opal to Social Studio. Let's take a quick look at how you can determine if an account is integrated with Social Studio.
Click on apiece of content to open the Composer.
Select a deliverable "Content Type."
Select an integrated "Account".
Set a Time that takes place in the future.
Add your assets, copy, and any other relevant details to your content.
Click "Save + Close" to save your content.
Note: By default, content is delivered to Social Studio in a draft state. Someone with a Social Studio account will need to schedule or publish the content for it to go live.

Link Account
In order to deliver content, Opal accounts first need to be linked to Social Studio accounts. Content created in Opal will deliver to Social Studio with the linked account.
Note: Admin access is required to accomplish this.
Hover over the sidebar, then click ⋮, located next to the Opal logo.

Hover over Configure Workspace, then click "Channels & Accounts"
Click on the Chain Link icon next to the account name in Opal.
Check the Deliver content from this to your publishing partner checkbox.
Click the drop-down arrow to select the account you wish to link in Opal.
We recommend that you select the option Approved content will be delivered automatically with the scheduled time upon final approval to pre-select the Automatic Delivery option for all content created with this account.
Click the Chain Link icon to close the drop-down.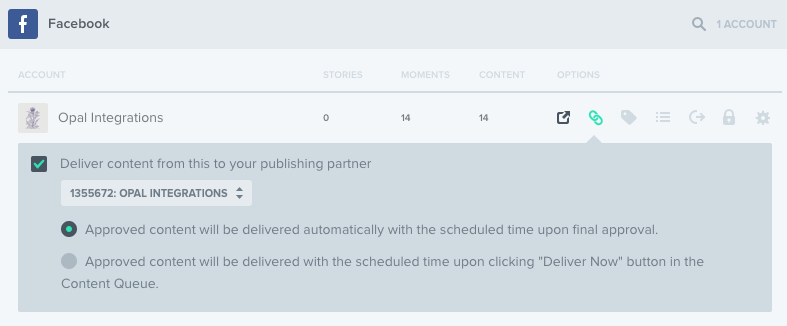 Get Connected
To learn more about implementing the Social Studio integration, contact your Opal admin or support.
Previous | Next