Streamline Campaign Development
Streamline Campaign Development
Updated by Gary Ploski
When it comes to developing new campaigns, technology should speed you up — not slow you down. That's why for the Opal Product Team, building capabilities that help you move quickly is always top-of-mind. Here are some of their favorite tips to help you save time building out your next campaign in Opal.
Find and Share Approved Content for Reuse
You may want to repurpose approved creative to extend your campaign's reach to new geographies, reinforce your message across channels, or enable your other teams. In Opal, this is easy.
Finding Content for Reuse
In the week view, select 'Filters,' 'Approval Status,' and then 'Approved' to see all approved content. Once content has been identified, you can quickly duplicate and reuse it using the tips below.
Tip: This view is most helpful when your content is set to 'Show' from the settings icon located on the right side of the screen.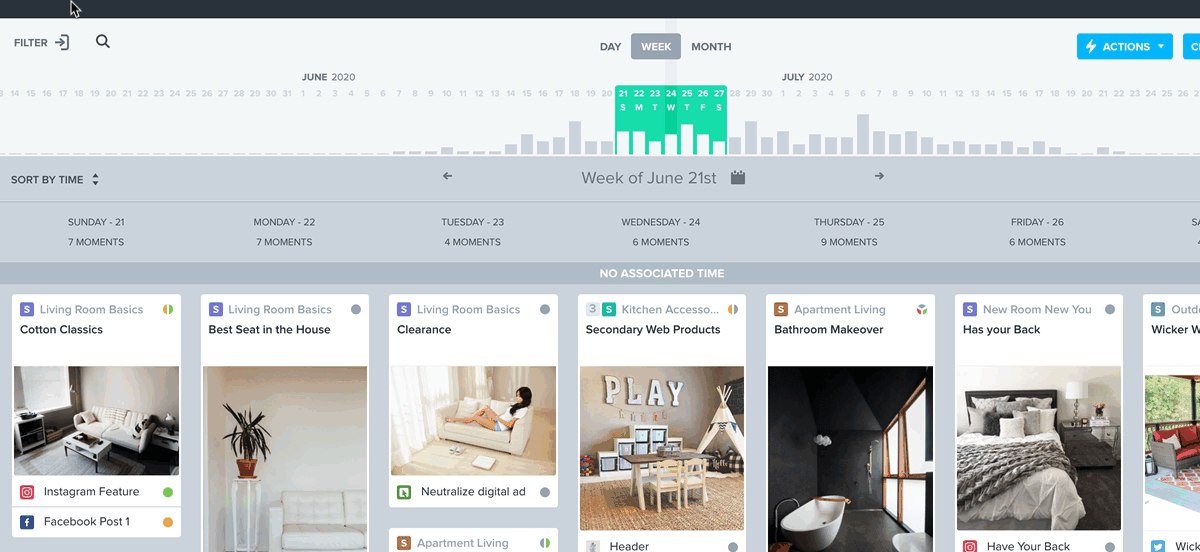 Sharing Content for Reuse
From the week view with approved filters still on, create an Opal Presentation of approved content by clicking Actions in the top right corner and select 'Create Presentation.' Once created, you can share the Presentation with others via a link, whether or not they're an Opal user.
Duplicate Moments
Duplicating moments is an easy and flexible way to save time in the campaign development process. There are a few ways to do this, but our favorite (yes we use Opal too!) is right clicking on a moment in the week view. From here, you have three options:
Duplicate the entire moment, including the content within
Duplicate only the content placeholders
Duplicate only the moment details
To save the most time, we recommend using option #1 and then removing what isn't needed later on.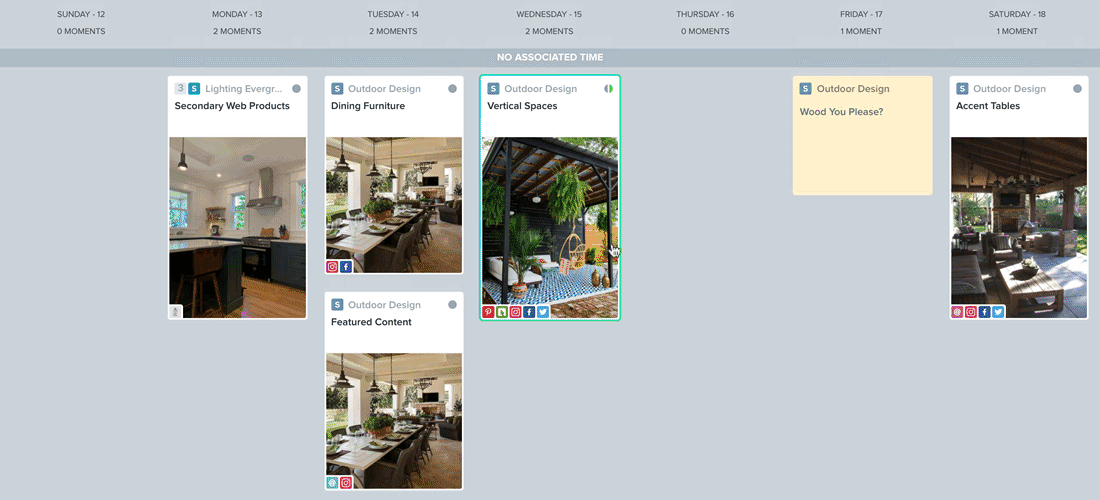 Duplicate Content to a Different Channel
Think of duplicating content as getting a head start on your work. You may need to make changes, but it's a lot easier to edit content that's already been created than it is to start from scratch.
To save time creating content for an omnichannel campaign, we recommend finalizing a piece of content and then duplicating it to all relevant channels. From there, you can make channel-specific changes to your content and optionally move it to a new moment.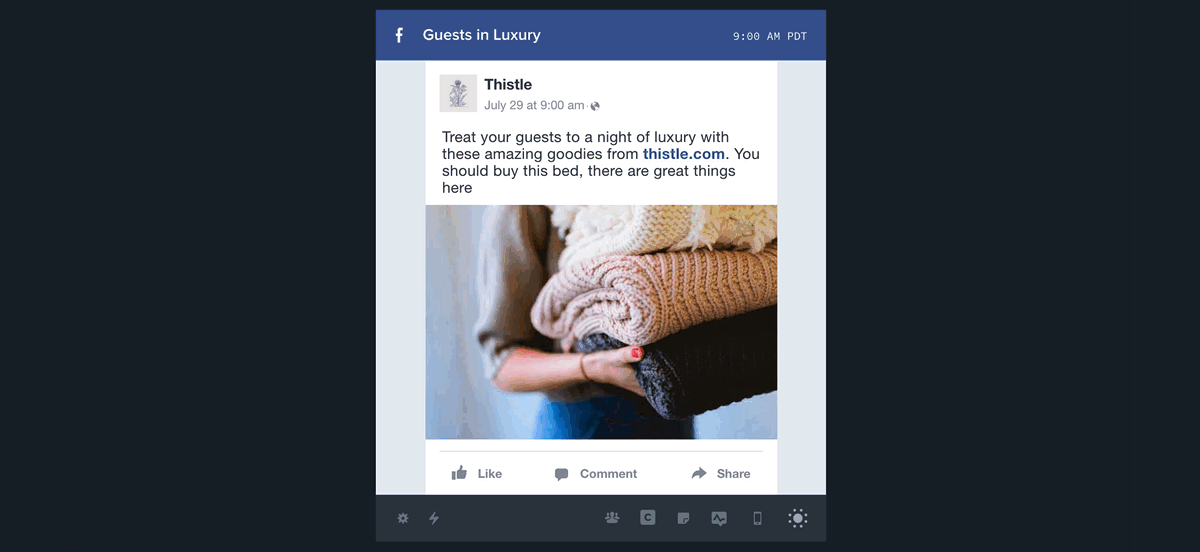 Make Date Changes Quickly
As we've all experienced, campaign dates can often change with little notice. In Opal, we make it easy for you to adapt to those changes with a quick drag and drop.
Content Changes
In the week view, make sure your content is set to show. If it's not, click on the settings icon on the right side and select 'Show' under 'Content.' From here you can drag and drop content cards from one moment to another.
Moment Changes
In the week view, you can also reschedule moments by dragging and dropping them to a new date or to a future date in the timeline above.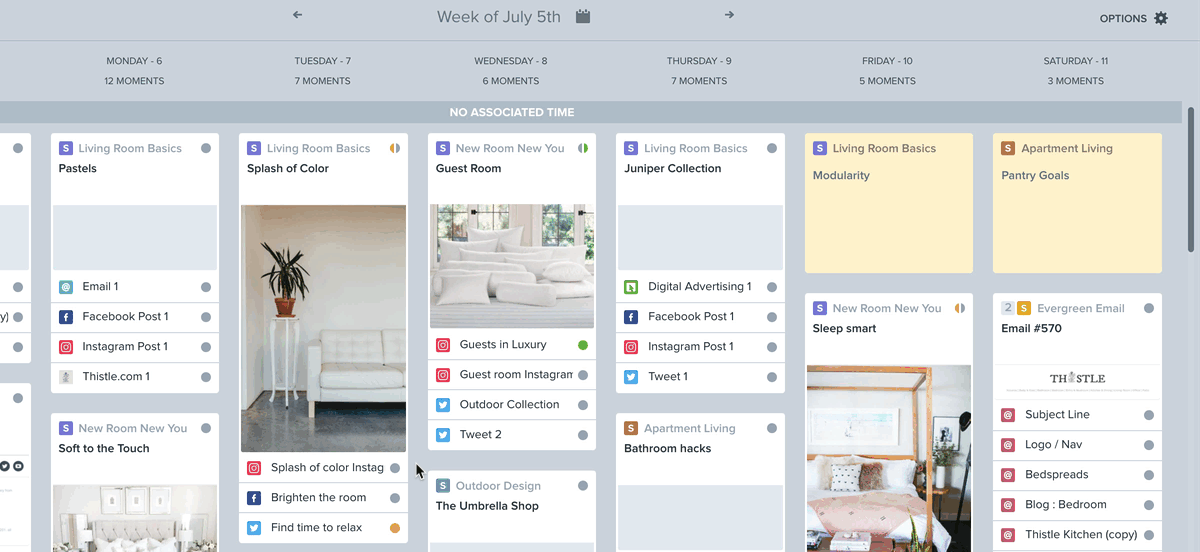 And there you have it! We hope you enjoy these quick tips for streamlining campaign development and start saving time in all the right places.
Previous | Next