Updated by Gary Ploski
Opal enables your team to work better together. Although there are a lot of ways that Opal is designed to do this, it all starts with getting foundationally organized. To help your team get there, this article highlights our favorite tips for organizing and improving processes core to your success.
Start with Your Story First
When you're first gearing up for a new campaign, it can be hard to get everyone organized and on the same page. But the earlier you start aligning teams and efforts, the faster you will get off the ground and start executing effectively.
That's why, even at the earliest stages of campaign development, we recommend you create a story and start building the outline of your campaign into Opal. Doing this will kick-start the alignment process and save you time in the long run. To get started:
Create a story and add a story description that distills the key goal or focus of the campaign.
Share the story link with the cross-channel team so everyone can start developing the story with relevant moment and content shells to get a complete campaign outline ahead of content creation.
Use the story development process to ensure there's alignment across all of your content and channels.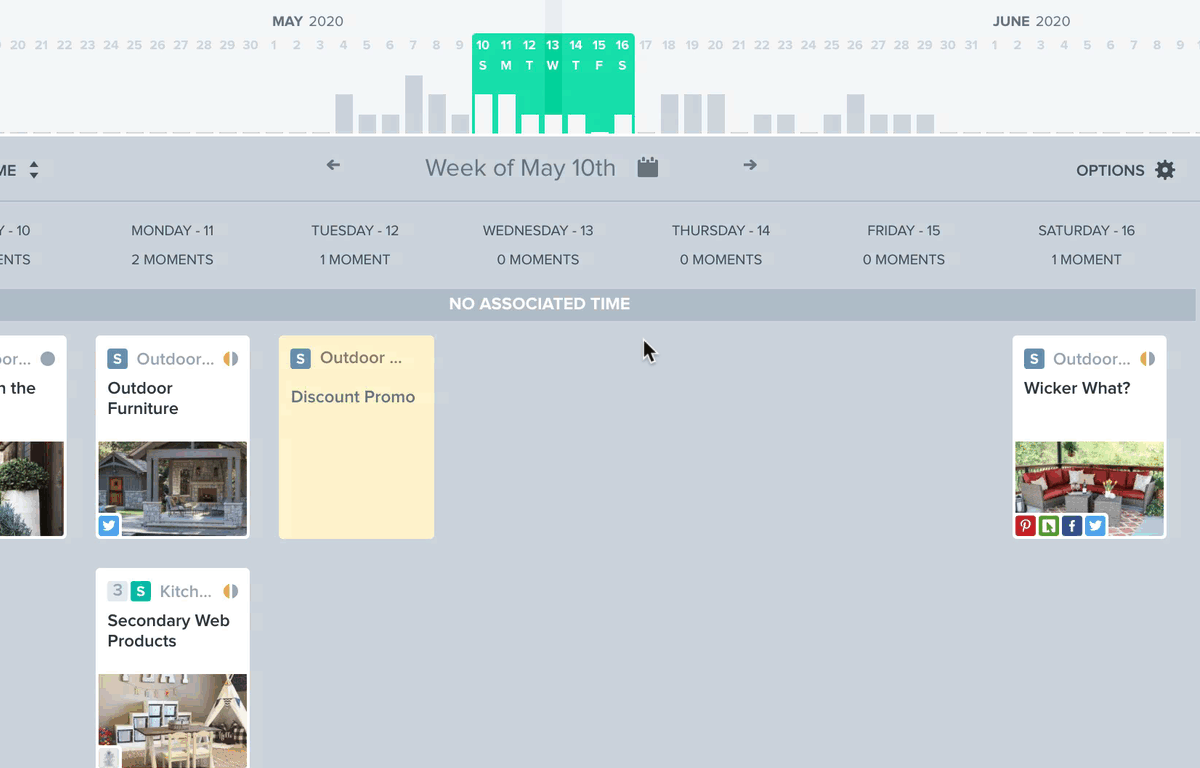 Let Labels do the Heavy Lifting
Imagine looking for a show on Netflix without any organizational structure....comedy, documentaries and kid shows all lumped together. Labels in Opal provide that needed structure, taking the work out of sorting, filtering, and searching for relevant content. 
For example, you can use labels to spin up a presentation for a single product category or narrow down your calendar view to see only what matters most to you. To help maximize the effectiveness of labels, here are some recommended best practices:
Make your primary label set relevant to everyone creating stories, moments or content. That way they help your entire team stay on track and work more efficiently.
Use no more than 5-10 label sets for your workspace. The fewer label sets to choose from, the easier it is to maintain clear and consistent organization.
Keep required labels to a maximum of two. Not every label will be needed for every piece of content, so only require the ones most important for your team.  
If you find that labels aren't creating value for you and your team, then it's time for a refresh! Reach out to your admin or Opal support to improve your label game by removing old unused labels and adding new, more helpful ones.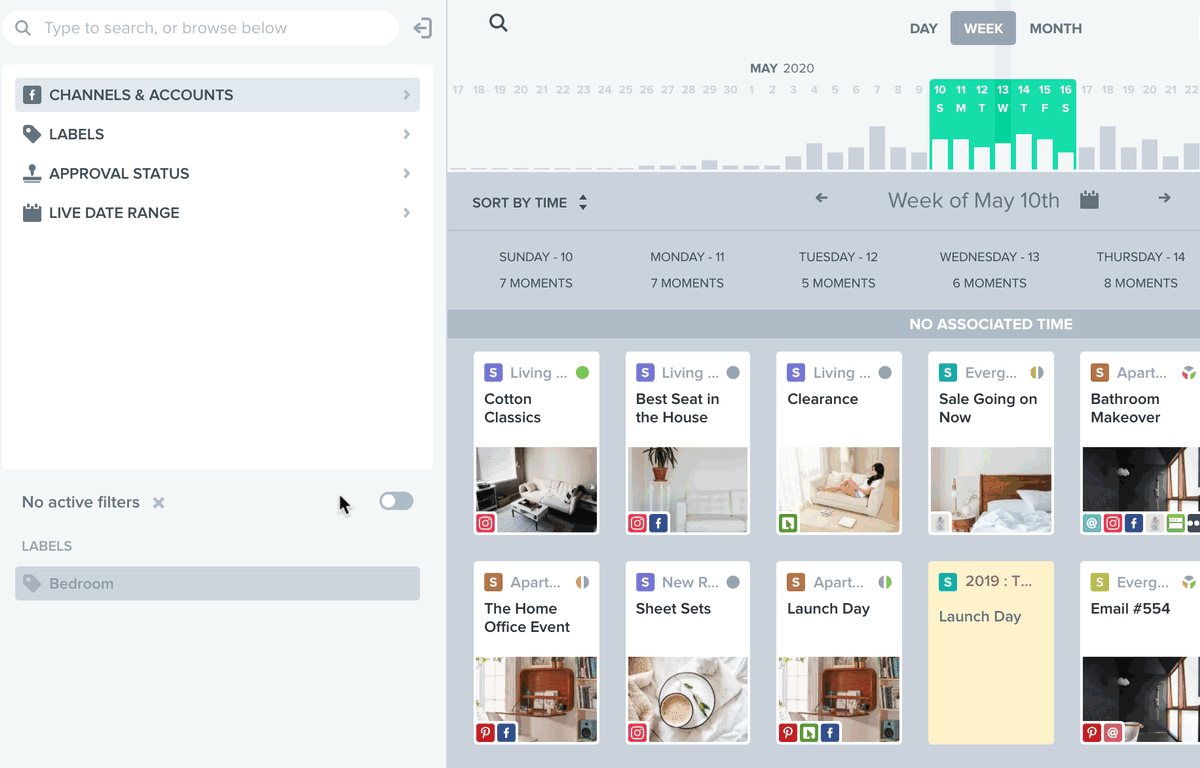 Automate Your Workflows
You know a process is dialed when everyone knows what they're supposed to be working on and when. Workflow in Opal allows you to build in tasks and approvals throughout the content creation process, so everyone is on the same page. Here are a few ways you can eliminate the work of setting up workflows for your team:
To avoid setting up workflow for every story or piece of content, workflow can be configured at the channel level. This means every piece of content created for the account associated with that channel will have a default workflow.
 If the workflow isn't always the same for that account, you can make changes to the pre-configured workflow at the content level. It's a lot easier to set up the most common workflow scenario then build it from scratch every single time.
Want to automate tasks and approvals for an entire campaign or for all of the work your team does? You can do this easily by setting up workflows at the story and workspace levels!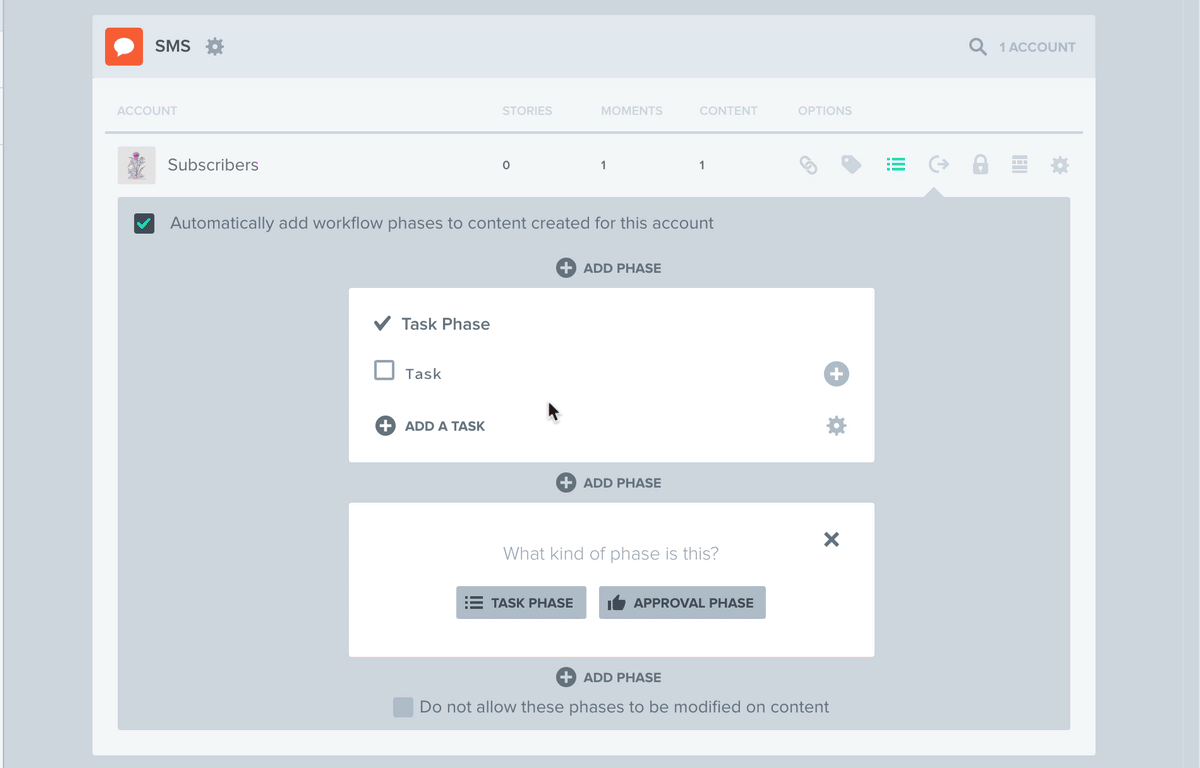 Interested in setting up a workflow for an account, story, or workspace? Reach out to your admin or support@workwithopal.com.
Previous | Next