External and Internal Comms
Updated by Erynn Baird
In this article, we highlight the most effective ways to work in Opal, so you can coordinate and develop your internal and external communications with your coworkers and ensure messaging aligns with your brand and engages with your audience.
Consider a Variety of Use Cases
Opal can be utilized for a variety of use cases for comms teams, but we want to call out a few of the most popular:
Manage the intake requests from various teams to the comms team
See how various communications are finessed for different audiences and channels
Manage proactive and reactive content across the editorial calendar
Create, produce, and manage the c-suites social channels
Utilize the StoryFirst Framework
The StoryFirst Framework is an organizational principle that improves team performance by first unifying your work around a topic before planning for your channels. We find that comms teams typically utilize the StoryFirst framework uniquely.
For example, stories are typically used as larger containers for related messages and often map to label sets like brand pillars or business units, e.g. a Pay, Benefits, and Retirement story.

Within stories, you have moments which are messages going out to a specific audience and act as a container for related content.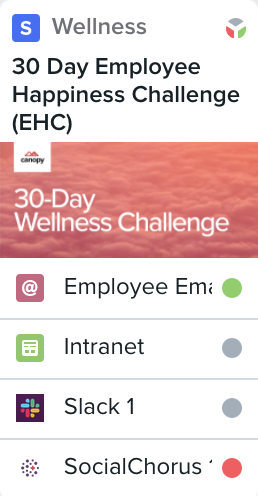 Content tells your message to your audience for a specific medium.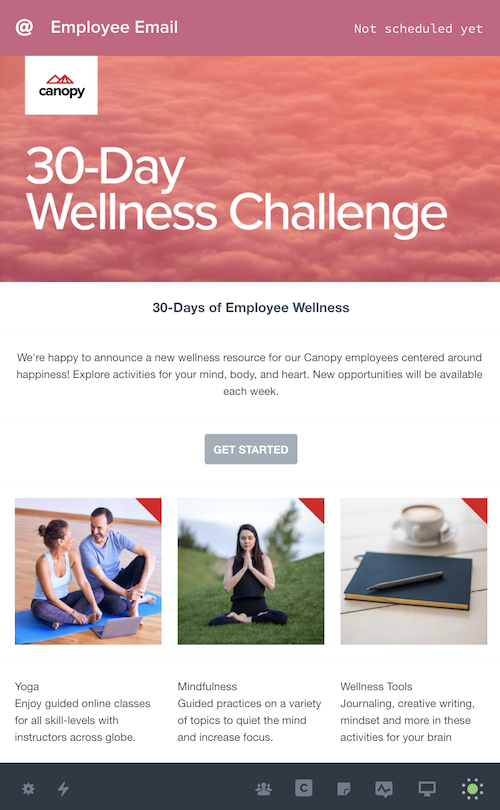 Here are a few examples of how Comms teams apply the StoryFirst Framework.
StoryFirst Example 1
Story - Wellness 
Moment - 30-day Employee Happiness Challenge
Content - Email, Slack post, Intranet update
StoryFirst Example 2
Story - Customer Savings
Moment - Mutual Funds 
Content - PR Update, Print, Twitter
Stay Organized with Nested Labels
We recommend utilizing nested labels, which make it frictionless to both apply and navigate to the right content without having to scroll through or apply non-relevant labels. In addition, they provide flexibility and enable the following:
Multiple teams with their own taxonomy to coexist in one workspace
Robust taxonomies for specific brand pillars, business units, regions, etc.
Cleaner taxonomy mapping with integrated tools and processes
Nested Label Example
Label set: Brand Pillar
Label: People and Culture
Nested Labels: Career and Development, Diversity & Inclusion, Ethics & Compliance, Wellness 
Note: For more information on implementing nested labels, click
here
.
Add All Internal and External Comms
Having all of your content across all of your comms channels live in Opal helps increase visibility and builds alignment across your organization. We typically see comms teams strategy focusing on omni-channel, meaning work spans across many mediums. Here are the most common that show up in Opal:
Website
Email
Press Release
Intranet or Internal Comms App
Internal Chat Tool (e.g. Slack or Teams)
Workforce Communications Software (e.g. Social Chorus or Poppulo)
Video
Social Channels
Quarterly Earnings Report
Blog
Get the Most Bang for the Buck
Opal provides numerous ways to view and share your work. We want to highlight a few that work best for comms teams. 
Stories
Stories view shows you what high level initiatives across different brand pillars you have planned at any time. Below, you can see the stories are sorted by the label set "Life Stage & Audience" allowing the Canopy team member to see content meant for "Internal Audience."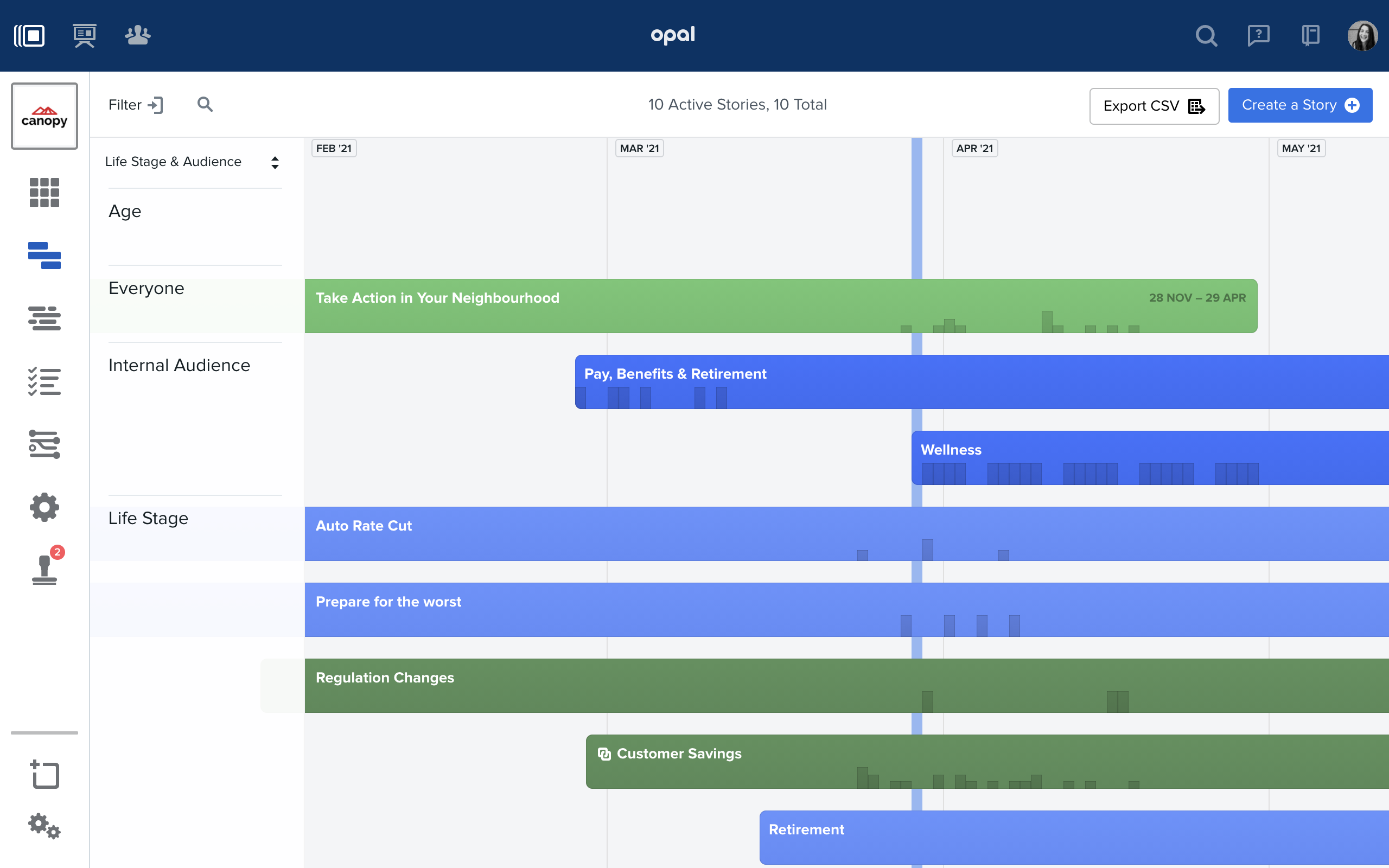 Moments
This view provides a ton of power for comms teams. It shows all the moments going out across all stories with options to filter and sort by labels and channels. It really is the go-to view to get a holistic picture of what's being planned week to week or even month to month.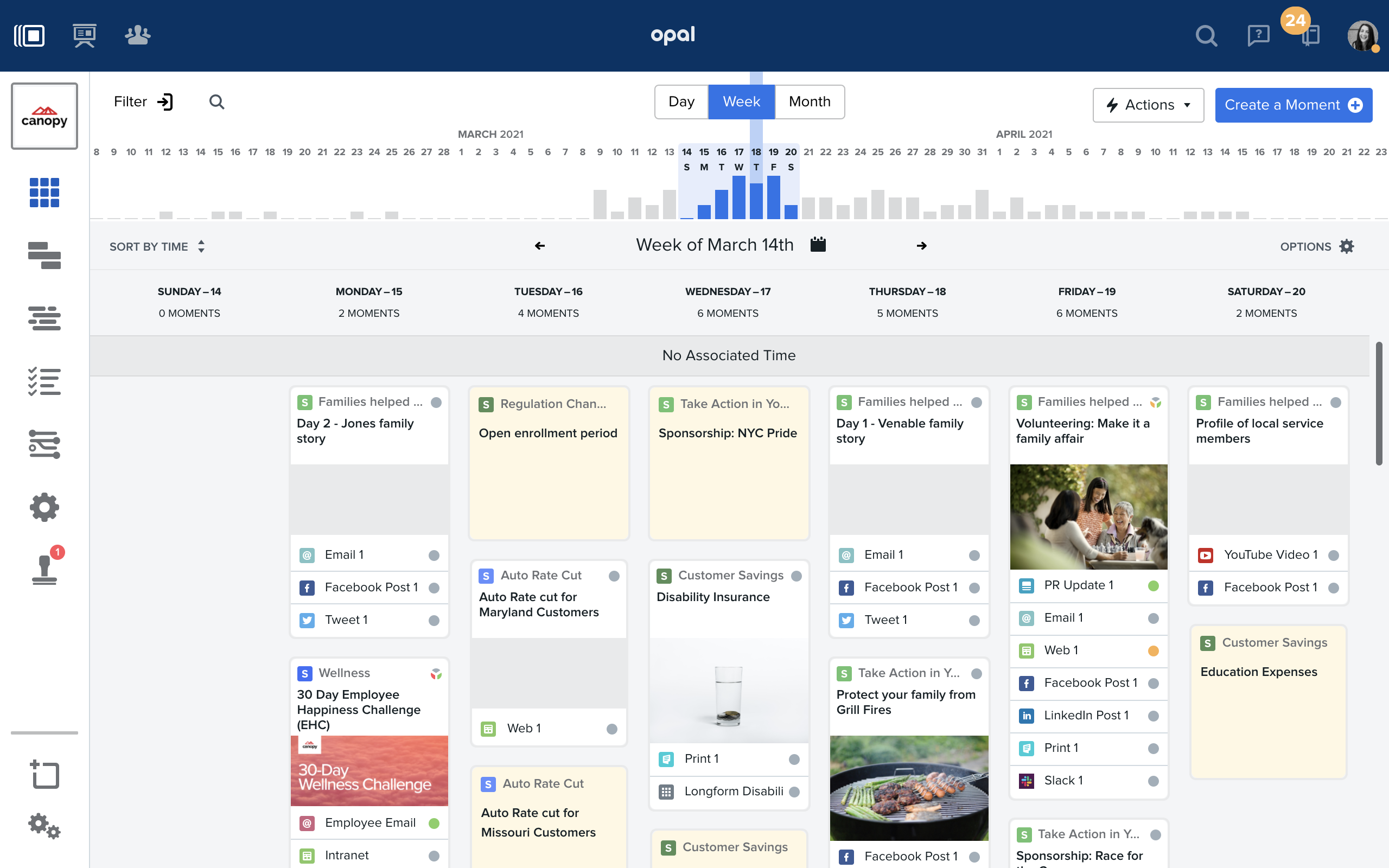 Assignments
The assignments view allows you to keep tabs on all tasks and approvals related to the production of your content. You can view and assign tasks for specific individuals, ensuring work moves forward.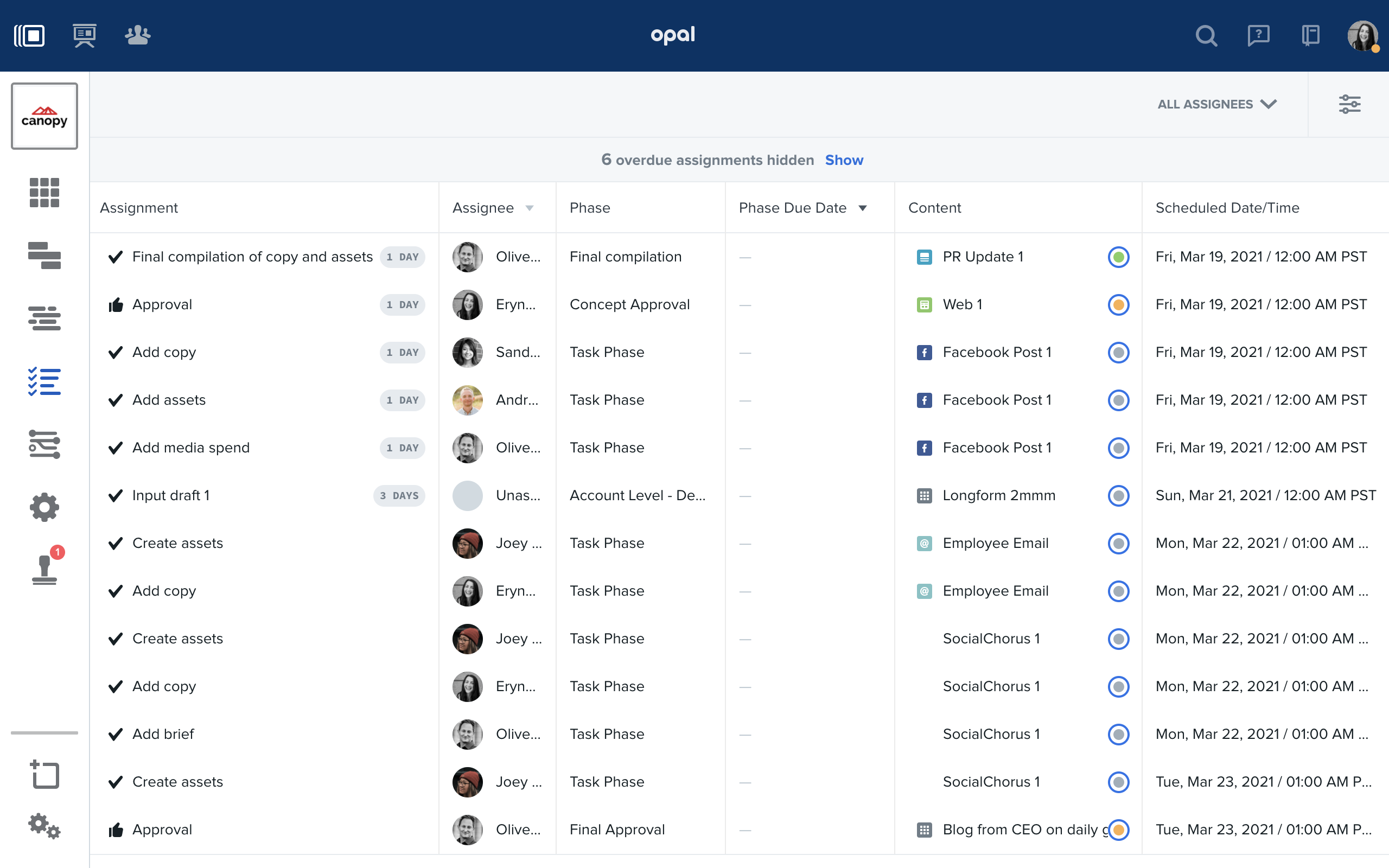 Share Comms Plans Internally and Externally
Once work has been completed for a specific message or initiative, it can be shared by quickly spinning up an Opal presentation. Within minutes, you can create and customize your presentation to share with a variety of audiences in a variety of formats whether they have a seat in Opal or not.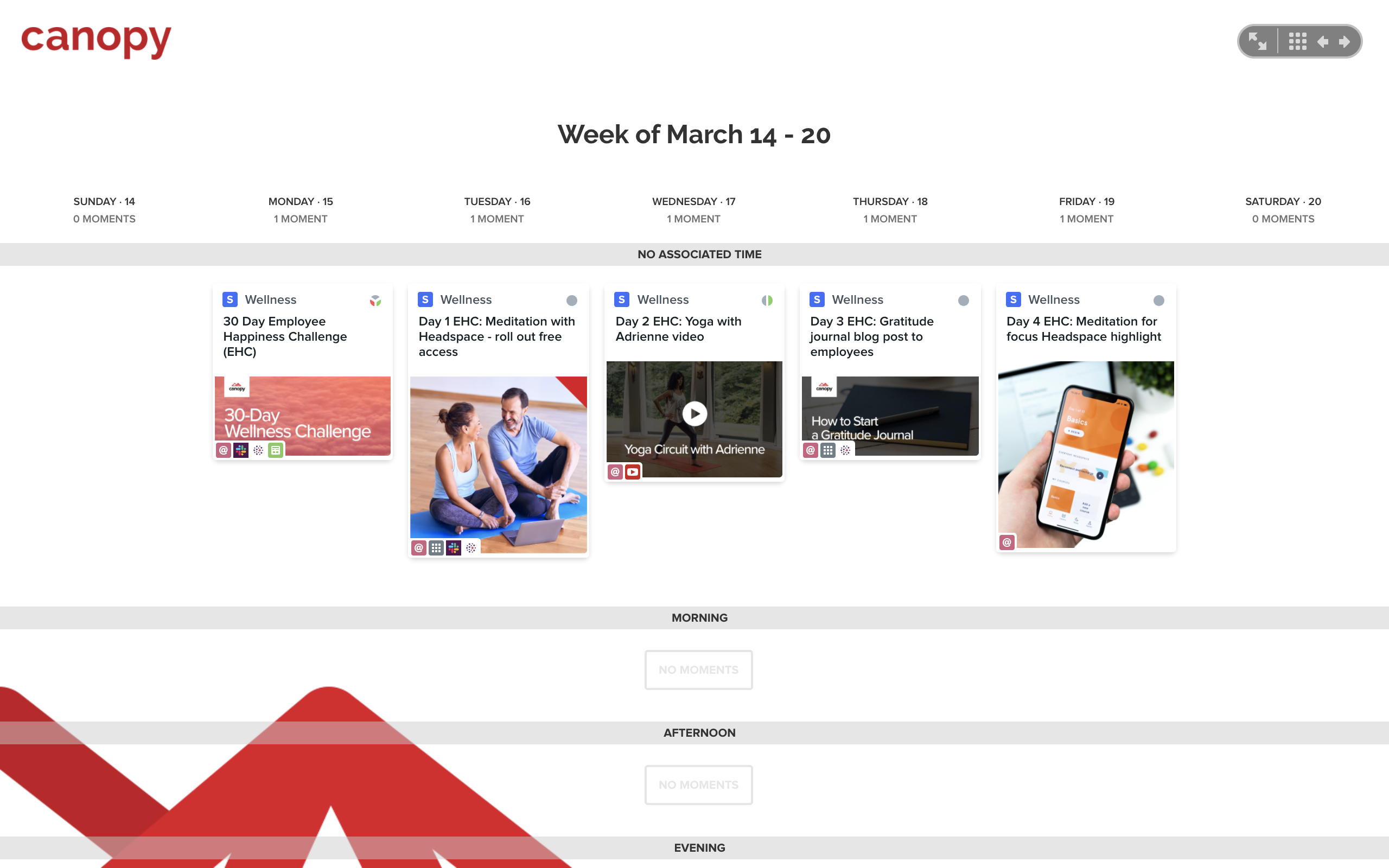 Summary
Centralizing internal and external comms will bring your messages into alignment, ensuring your colleagues and customers a consistent and on-brand experience. It will also provide new visibility for everyone across the organization making your work stand out and beside any other messages being planned by other teams.
Previous | Next