Updated by Gary Ploski
The Facebook channel is a standard in all Opals and is updated regularly to best represent the current state of the channel platform. Below are details about Facebook content types and their corresponding specs.
Please contact support if you have questions about Opal's representation of content types for Facebook.
Facebook Content Types
Standard Post
Carousel
Carousel Ad
Image Ad
Video
Video Ad
Event Response Ad
Canvas Ad
Photo Album Page Update
Profile Update
Story
Standard Post
Text - 63,206 characters
Asset - Select up to 80 assets, including animated gifs
Truncation - Show truncation or expand text
Channel Options
Facebook Targeting - Specify targeting details

Age
Gender
Relationship Status
Education Status
Interested In
Language
Location

This Content Has Media Buy - Specify if this content has media buy, the value, and start date
Pin This Content - Specify if this content should be pinned and the date to be pinned
Dark Post - Specify if this content should be a dark post
Highlight Content - Specify if this content should be highlighted
Device Views
Desktop News Feed
Desktop Timeline
Mobile Single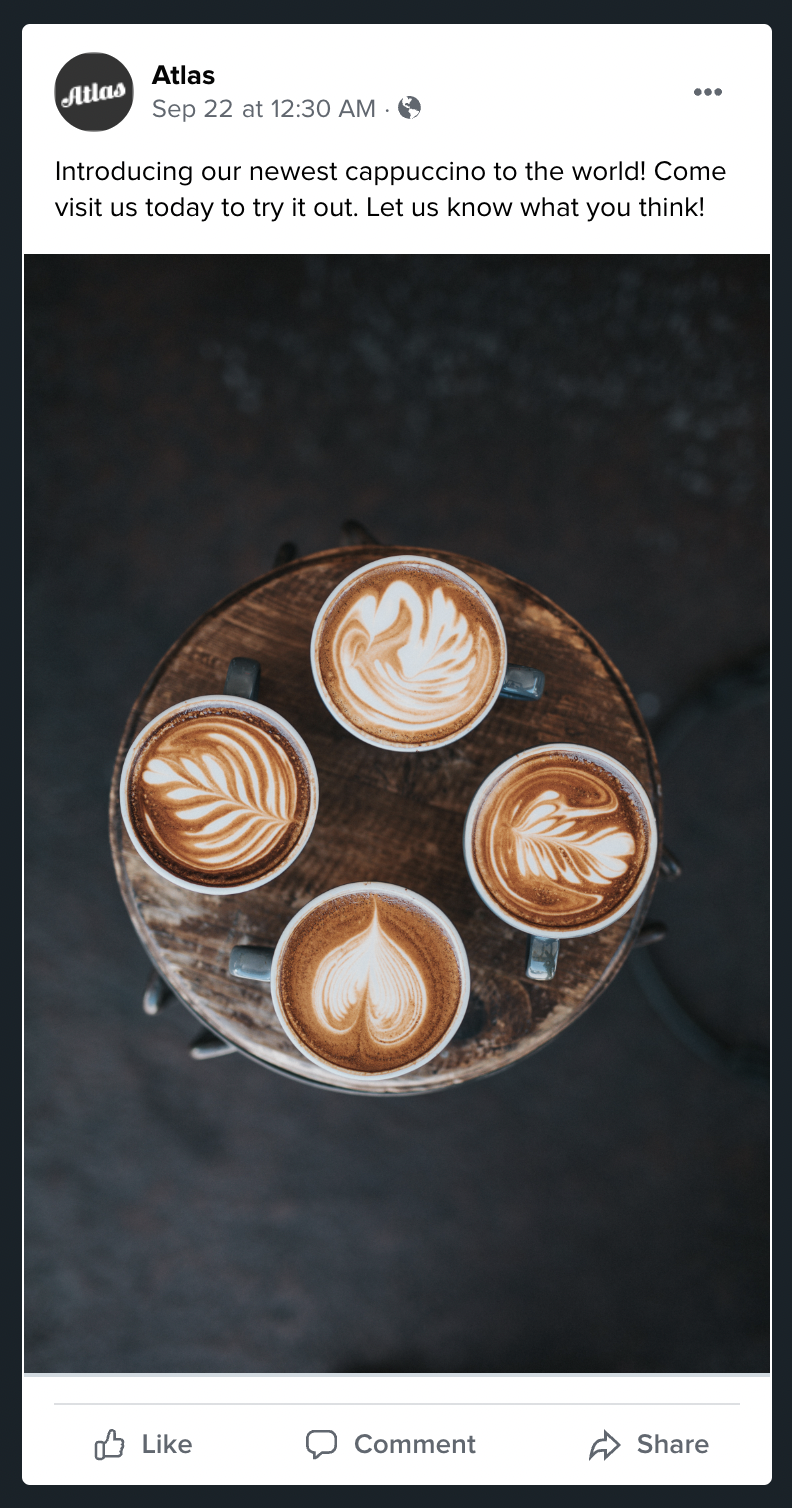 Carousel
Text - Unlimited
Asset - Select up to 100 assets or videos, including animated gifs
Sections - Create up to 10 sections
Expanded Carousel - View or hide sections
Section Options
Call to Action - Select a pre-defined call to action
URL - Unlimited text, http:// or https:// is required
Channel Options
Allow Sharing - Specify if sharing is/is not permitted
Allow Replies - Specify if replies are/are not permitted
Device View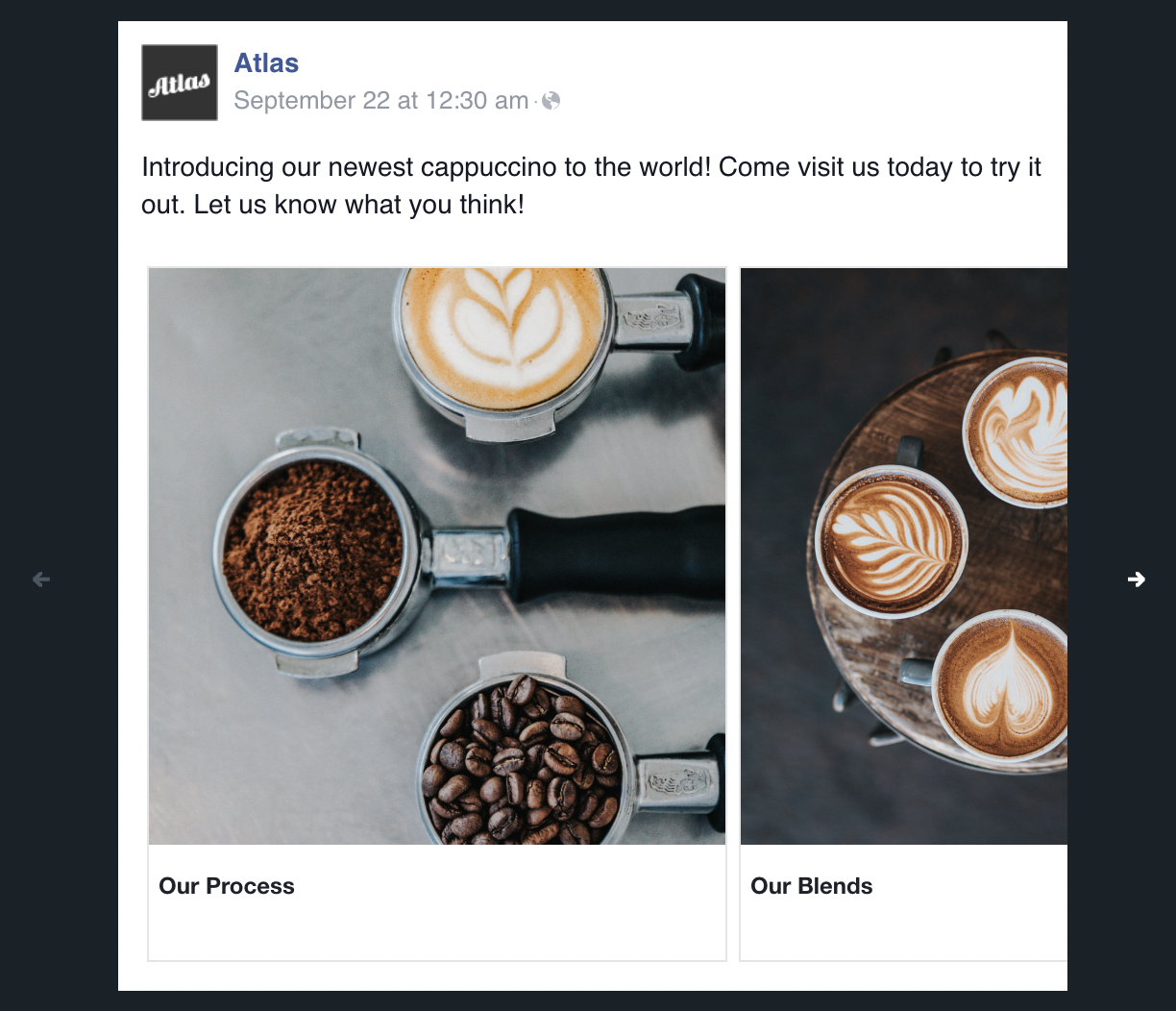 Carousel Ad
Text - Unlimited
Asset - Select up to 100 assets or videos, including animated gifs
Sections - Create up to 10 sections
Expanded Carousel - View or hide sections
Section Options
Call to Action - Select a pre-defined call to action
URL - Unlimited text, http:// or https:// is required
Channel Options
Allow Sharing - Specify if sharing is/is not permitted
Allow Replies - Specify if replies are/are not permitted
Device View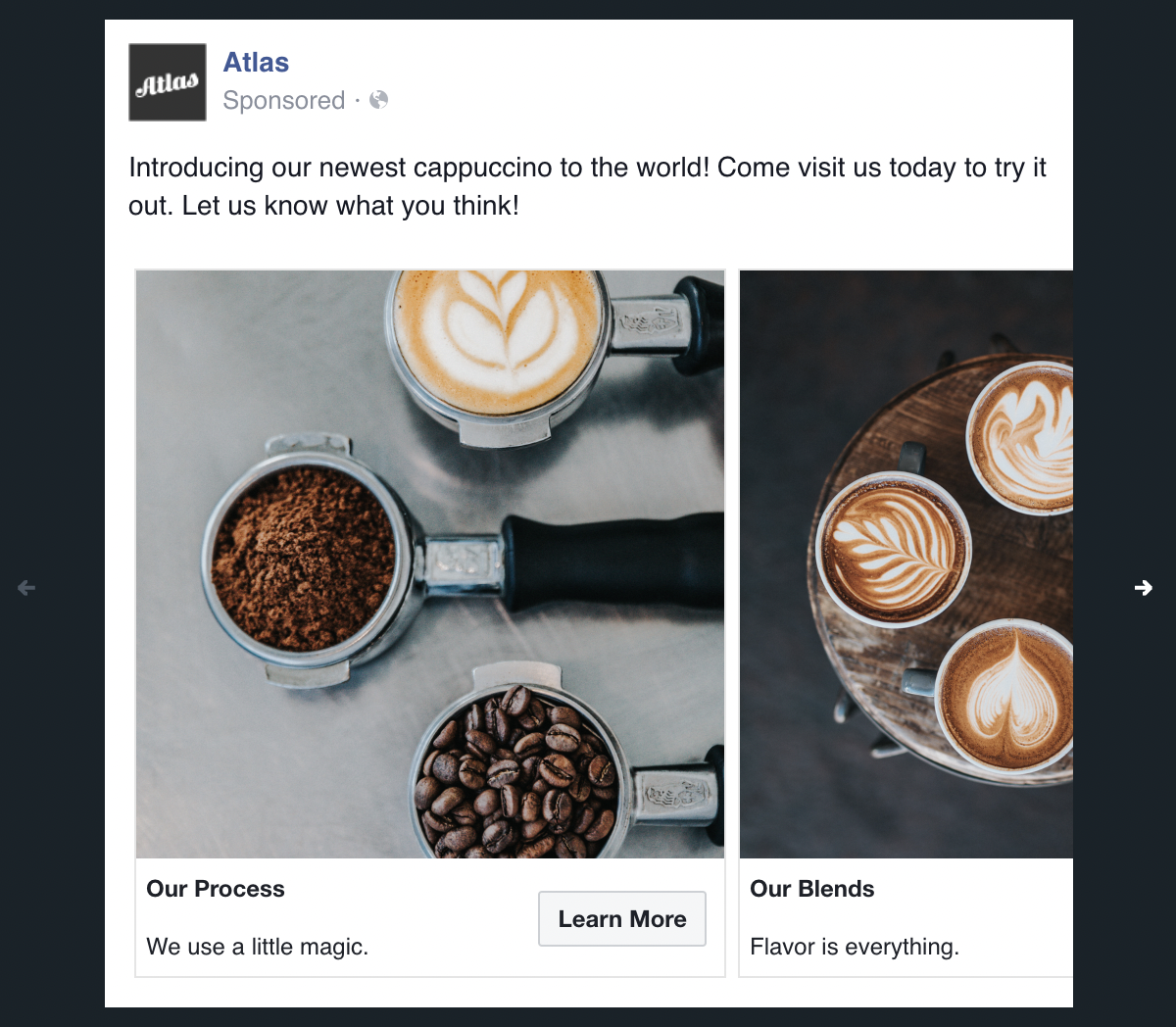 Image Ad
Text - 125 characters
Link - Valid URL
Link Preview -

Image - Select or upload an asset, including animated GIFs
Title - Unlimited text
Description - Unlimited text

Truncation - Show truncation or expand text
Channel Options
Facebook Targeting - Specify targeting details

Age
Gender
Relationship Status
Education Status
Interested In
Language
Location

This Content Has Media Buy - Specify if this content has media buy, the value, and start date
Pin This Content - Specify if this content should be pinned and the date to be pinned
Dark Post - Specify if this content should be a dark post
Highlight Content - Specify if this content should be highlighted
Call To Action - Select a predefined call to action button
Device Views
Desktop News Feed
Desktop Right Column
Mobile Single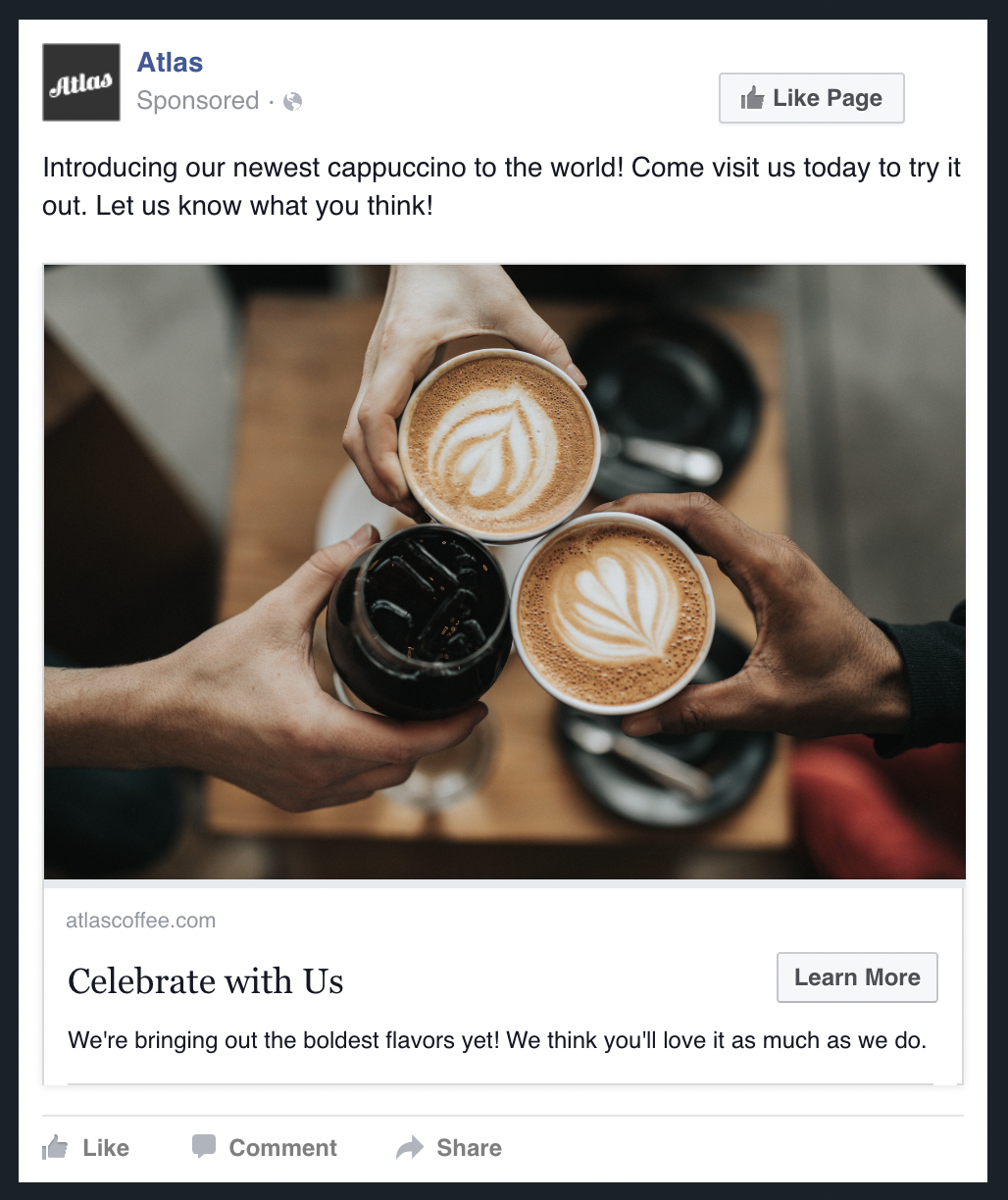 Video
Text - Unlimited characters
Asset - Select up to 1 video
Truncation - Show truncation or expand text
Channel Options
Facebook Targeting - Specify targeting details

Age
Gender
Relationship Status
Education Status
Interested In
Language
Location

This Content Has Media Buy - Specify if this content has media buy, the value, and start date
Pin This Content - Specify if this content should be pinned and the date to be pinned
Dark Post - Specify if this content should be a dark post
Highlight Content - Specify if this content should be highlighted
Device Views
Desktop News Feed
Desktop Timeline
Mobile Single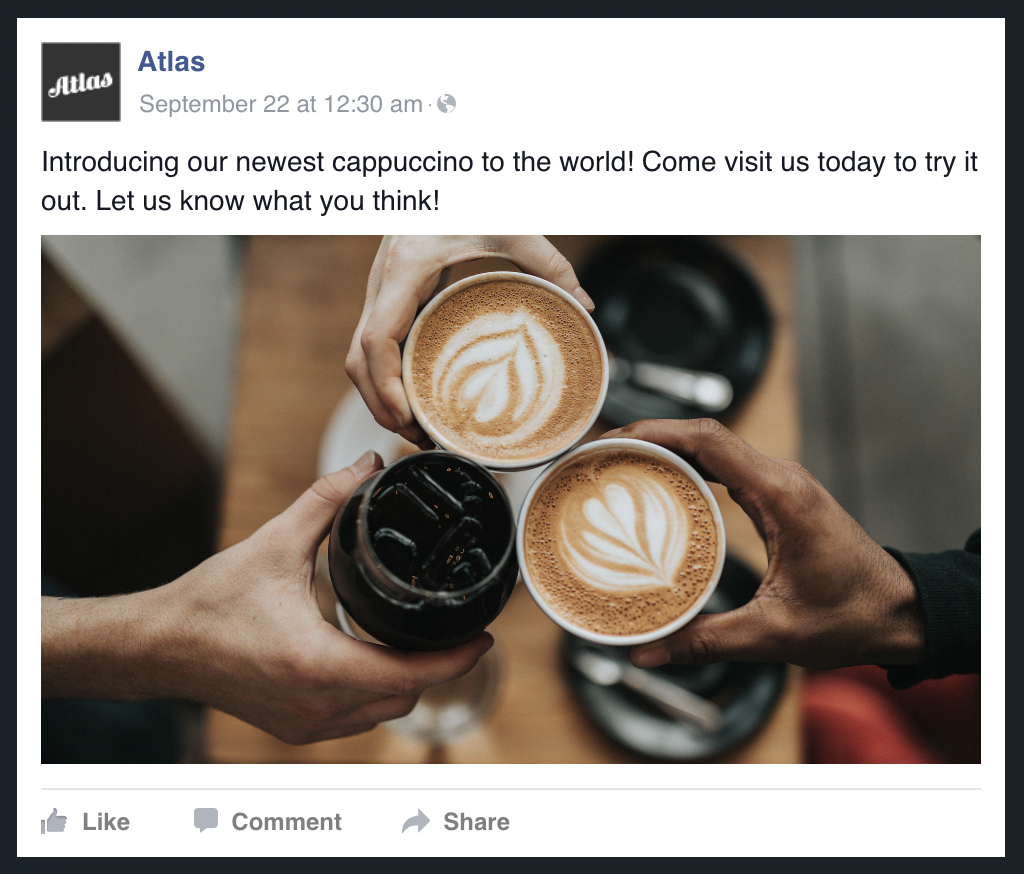 Video Ad
Text - Unlimited characters
Asset - Select up to 1 video
Headline - Up to 25 characters
Link Description - Up to 30 characters
Display Link - Unlimited characters
Channel Options
Facebook Targeting - Specify targeting details

Age
Gender
Relationship Status
Education Status
Interested In
Language
Location

This Content Has Media Buy - Specify if this content has media buy, the value, and start date
Pin This Content - Specify if this content should be pinned and the date to be pinned
Dark Post - Specify if this content should be a dark post
Highlight Content - Specify if this content should be highlighted
Call To Action - Select a predefined call to action button
Device Views
Desktop News Feed
Desktop Timeline
Mobile Single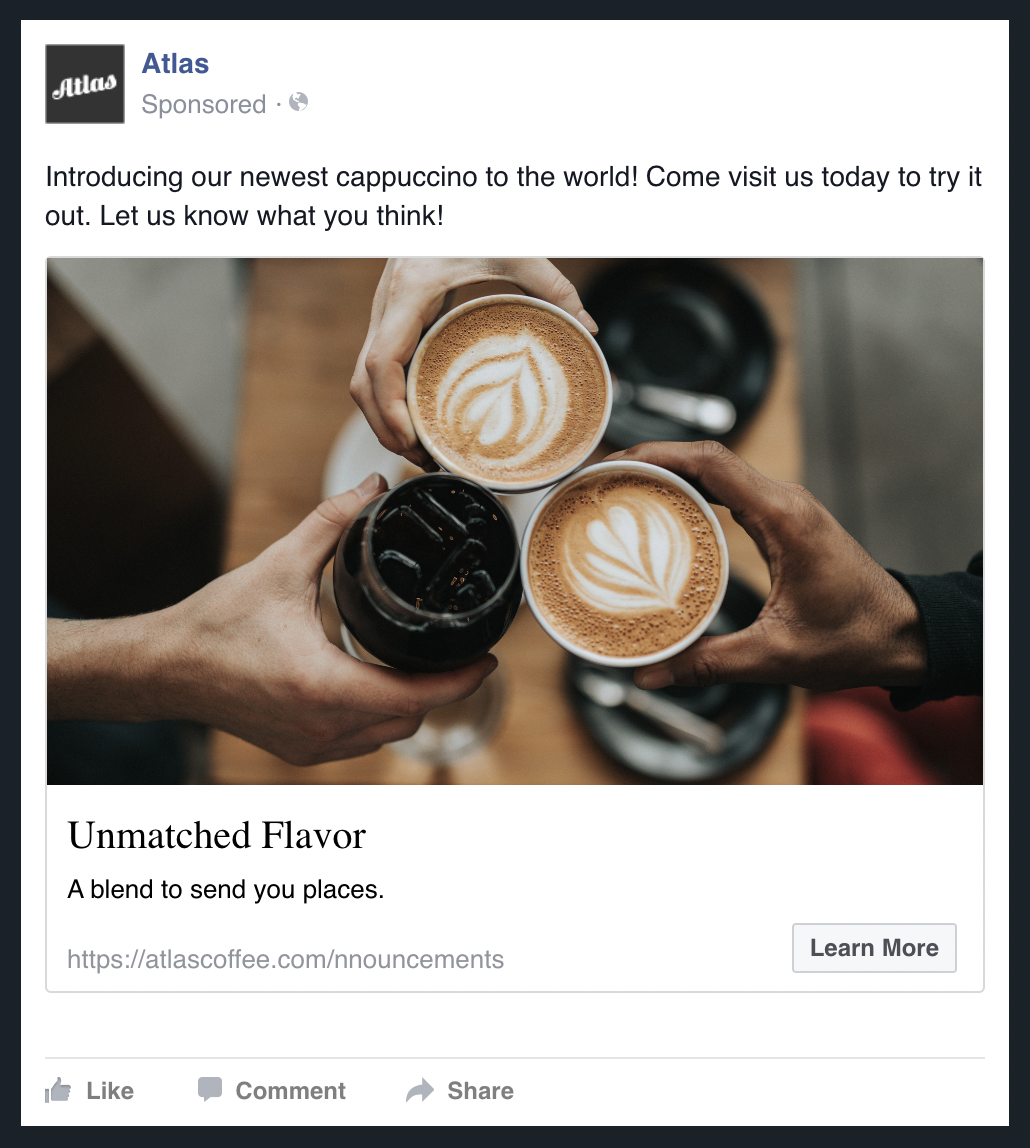 Event Response Ad
Text - Unlimited characters
Asset - Select up to 1 asset, including animated GIF
Event Title - Up to 25 characters
Channel Options
Facebook Targeting - Specify targeting details

Age
Gender
Relationship Status
Education Status
Interested In
Language
Location

This Content Has Media Buy - Specify if this content has media buy, the value, and start date
Pin This Content - Specify if this content should be pinned and the date to be pinned
Dark Post - Specify if this content should be a dark post
Highlight Content - Specify if this content should be highlighted
Event Time - Set a date and time
Event Location - Specify a location
Device Views
Desktop News Feed
Desktop Right Column
Mobile Single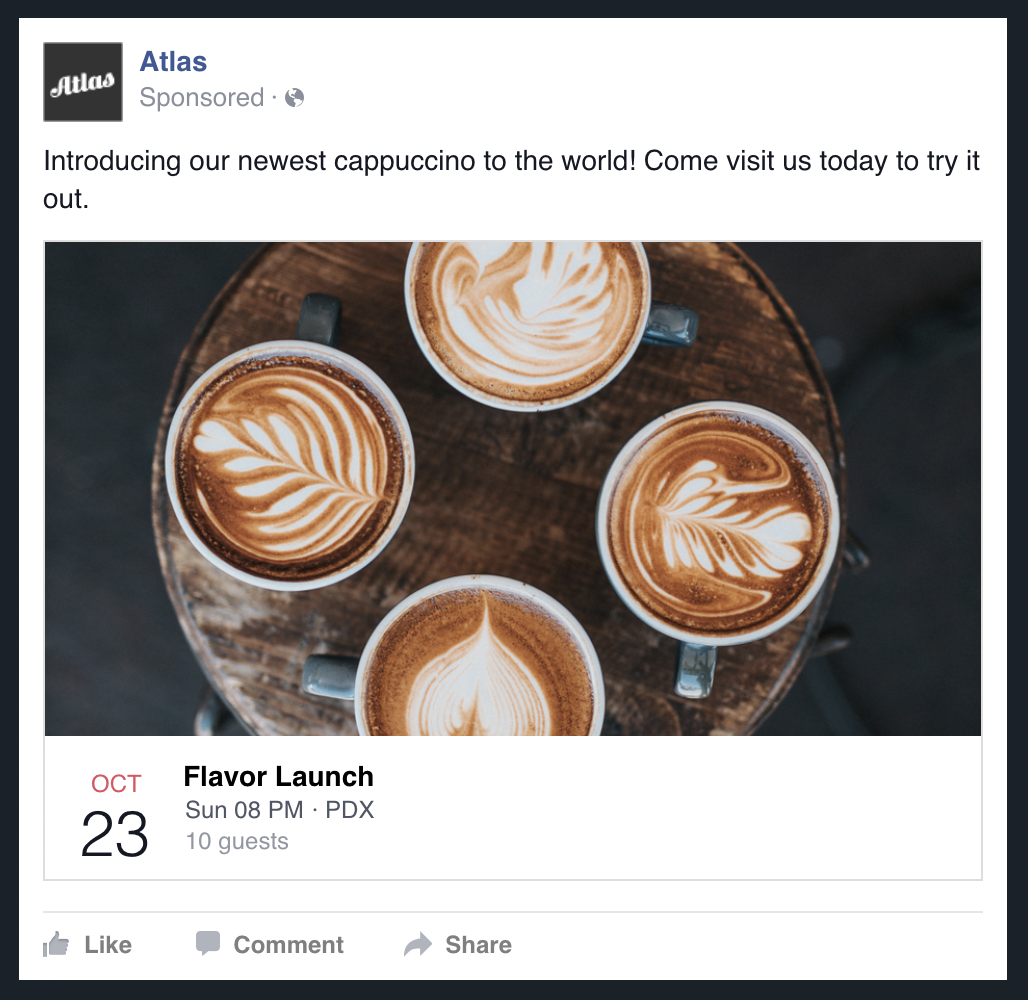 Canvas Ad
Text - Up to 140 characters
Asset - Select up to 1 asset or video, including animated GIFs
Headline - Up to 45 characters
Modules - Add unlimited modules
Module Options
Asset - Select up to 1 asset, including animated GIFs
Module Types - All modules can be reordered by drag and drop

Photo - Select up to 1 asset, including animated GIFs
Text Block - Up to 500 characters
Button - Up to 30 characters
Carousel - Select up to 10 assets, including animated GIFs
Video - Select up to 1 asset, including animated GIFs
Product Set - Specify number of products to display
Channel Options
Facebook Targeting - Specify targeting details

Age
Gender
Relationship Status
Education Status
Interested In
Language
Location

This Content Has Media Buy - Specify if this content has media buy, the value, and start date
Pin This Content - Specify if this content should be pinned and the date to be pinned
Dark Post - Specify if this content should be a dark post
Highlight Content - Specify if this content should be highlighted
Device View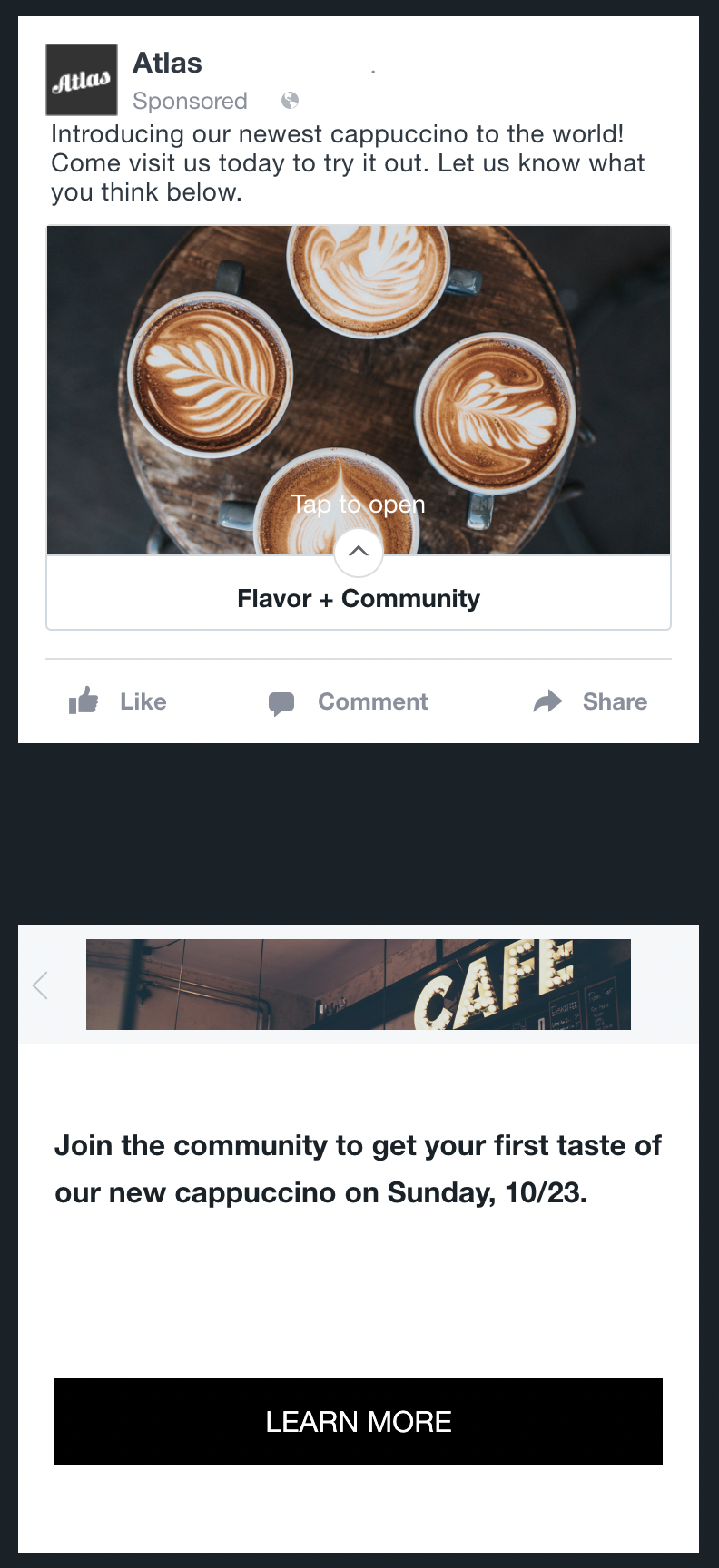 Photo Album
Text - Unlimited characters
Asset - Select up to 1000 assets, including animated GIFs
Channel Options
Facebook Targeting - Specify targeting details

Age
Gender
Relationship Status
Education Status
Interested In
Language
Location

This Content Has Media Buy - Specify if this content has media buy, the value, and start date
Pin This Content - Specify if this content should be pinned and the date to be pinned
Dark Post - Specify if this content should be a dark post
Highlight Content - Specify if this content should be highlighted
Location - Specify a location
Device Views
Desktop Album View
Desktop News Feed
Desktop Timeline
Mobile Album View
Mobile Single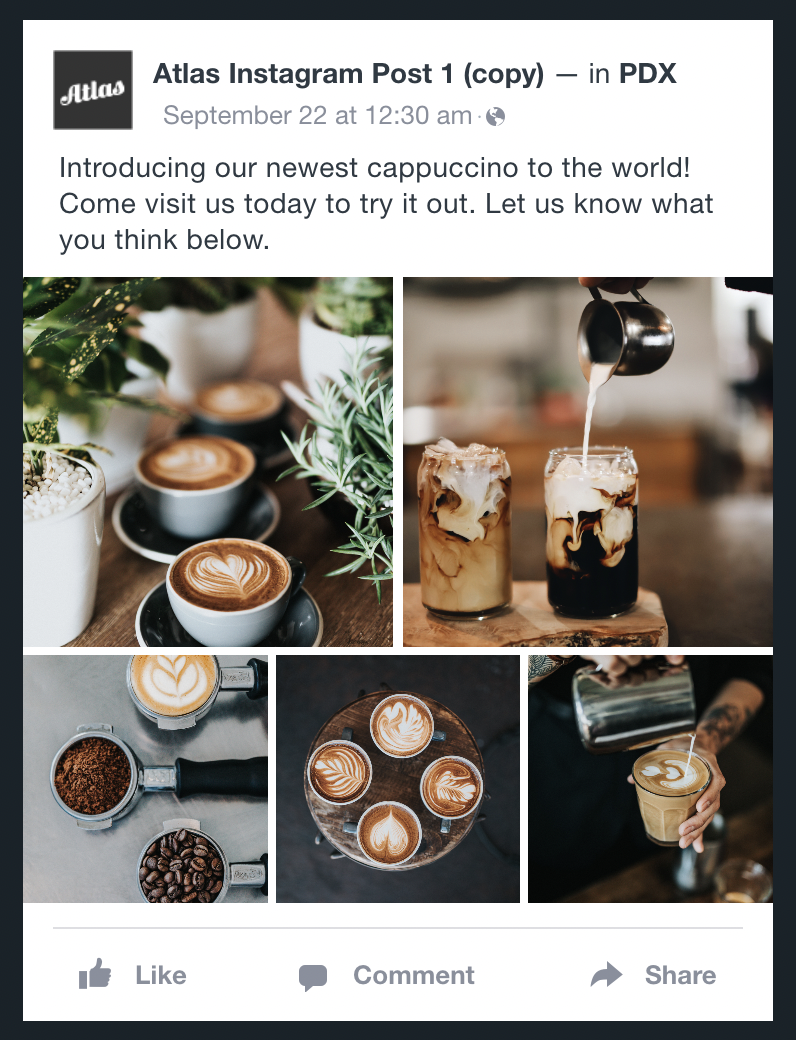 Page Update
Profile Asset - Select up to 1 asset, including an animated GIF
Cover Photo Asset - Select up to 1 asset, including an animated GIF
Channel Options
Username - Specify the account username
Call To Action - Select a predefined call to action button
Device View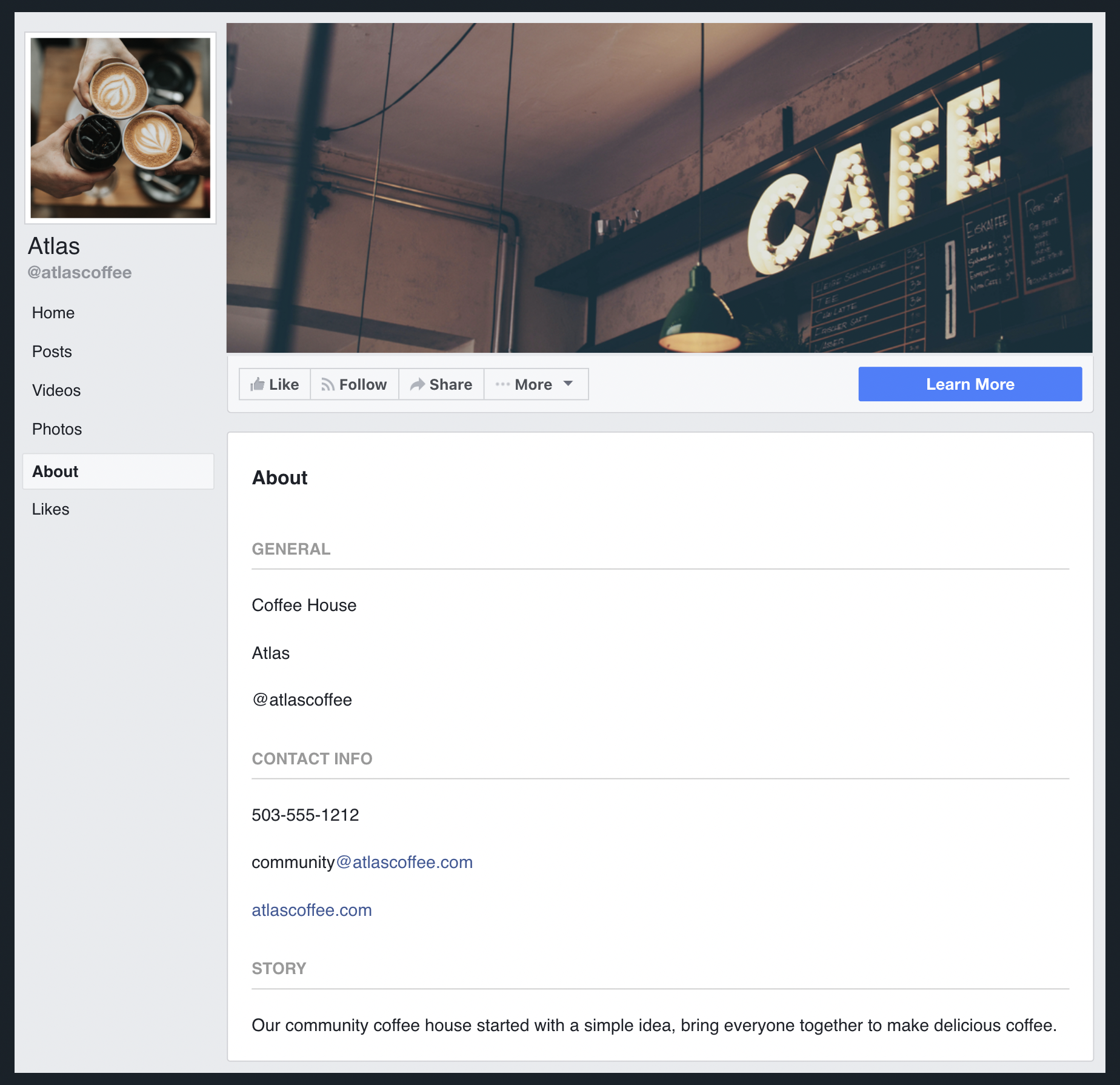 Profile Update
Short Description Asset - Up to 155 characters
Long Description - Up to 10,000 characters
Device View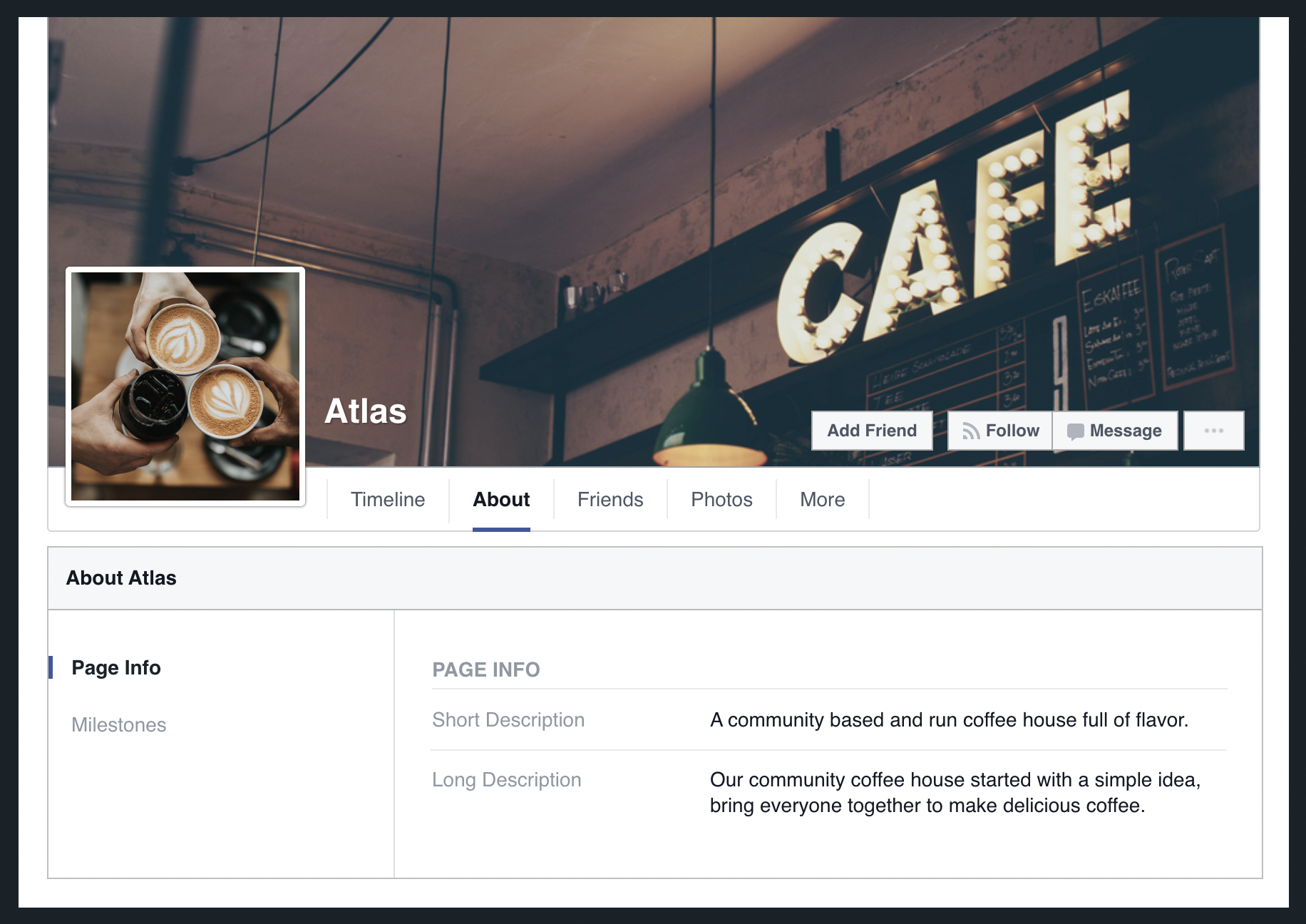 Story
Text - Unlimited characters
Asset - Select up to 1 asset, video, or animated GIF
Sections - Add unlimited sections
Section Options
Call to Action - Select a pre-defined call to action
URL - Unlimited text, http:// or https:// is required
Channel Options
Allow Replies - Specify if replies are/are not permitted
Allow Sharing - Specify if sharing is/is not permitted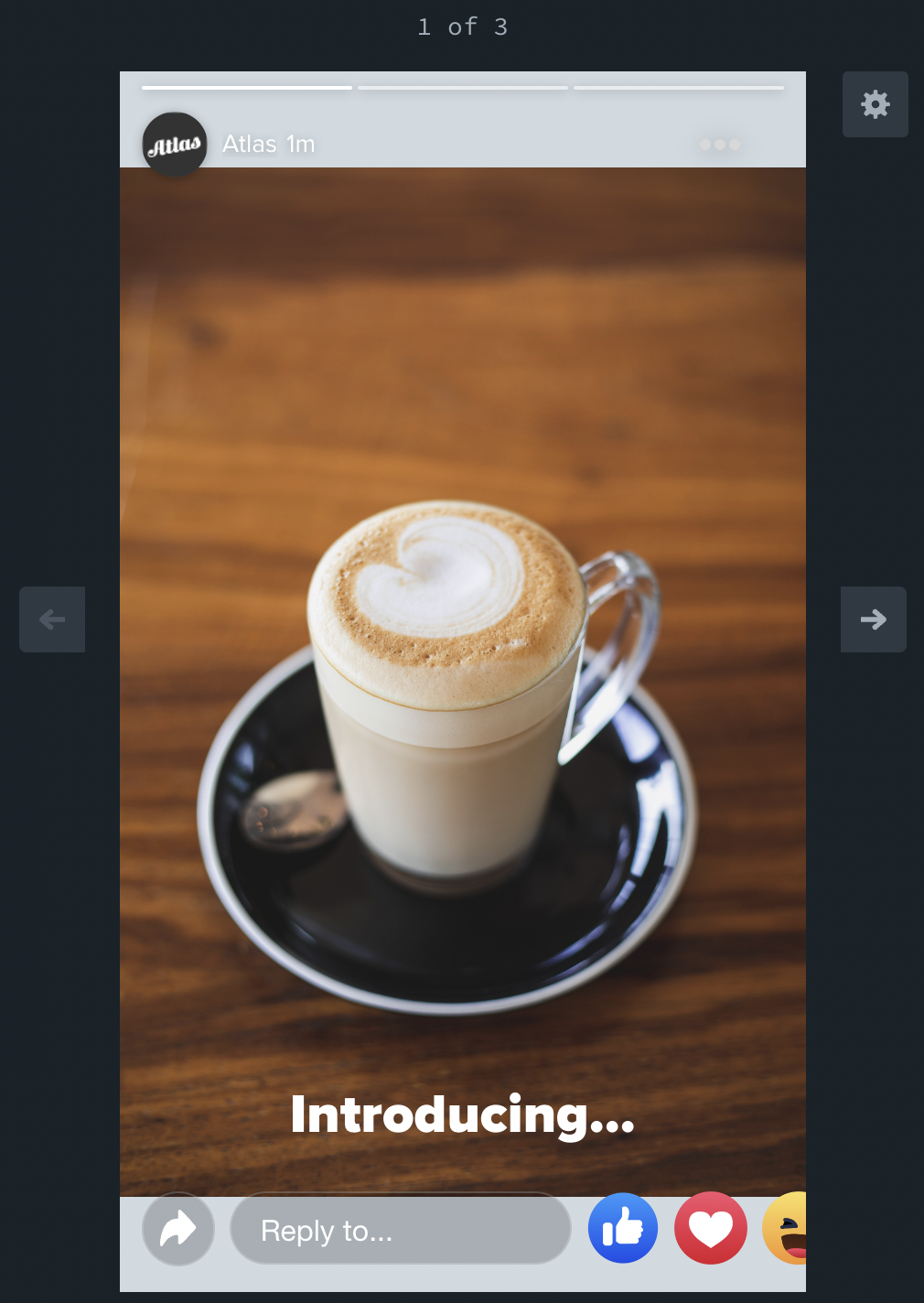 Previous | Next