Updated by Gary Ploski
The easy, flexible way to add text docs and drafts to your Opal marketing calendar.
From copy drafts to content outlines and project notes, there's a lot of text content for marketing and communication teams to keep track of. And if your team is like most, you know how hard it can be to keep all of this work organized and moving forward. Drafts and documents get lost in folders, email inboxes and chat threads. Progress stalls because there's no established workflow with clear next steps. Feedback gets stuck in individual documents and drafts, siloed from the larger stories and campaigns your team is working on.
The new Opal Text Editor eliminates those headaches by giving you an easy, flexible way to organize, visualize and review text content across all of your channels. As an update to the current Longform content type, Text Editor offers new formatting options, enhanced image and video embedding, robust support for maintaining pasted text formatting and more — all within a clean, modern interface.
Text Editor is available now in Beta so that your team can start using it today, but we'll continue to improve it and make additional updates with feedback from your team. In the meantime, read on to learn more about Text Editor and what it means for Longform.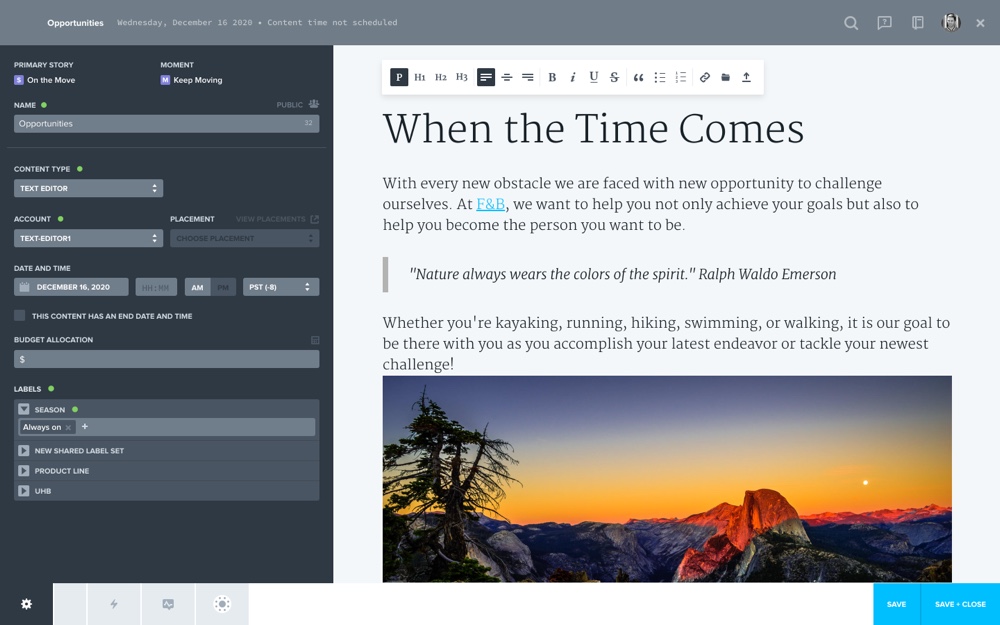 New in Text Editor
We're excited to introduce a number of new capabilities with Text Editor. Here are the highlights:
Clean, modern UI. With the new Text Editor UI, you now have a clean, simple canvas on which to build and visualize your text content.
Available on all of your channels. Text Editor is available to your team across all channels so whether it's copy for a press release, a blog post outline, or a content brief for an email, you can build and visualize it with Text Editor.
Image and video embedding. Build rich content by embedding images and videos right in-line with your text.
Pasted text formatting. Use Text Editor to add your work from Google Docs, Apple Pages, Jira Confluence and other sources to your Opal marketing and communications calendar. With Text Editor's robust capabilities for preserving the formatting of pasted text, you can seamlessly bring your work right into Opal.
Text Formatting
Text Editor offers all the core capabilities you need to represent your text content in Opal.

Paragraph text

Large header text

Medium header text

Small header text

Align text left

Align text center

Align text right

Bold text

Italic text

Underline text

Strike-through text

Inline quote text

Bulleted list

Numbered list

Hyperlink text

Open the Asset Library

Upload asset
Saying Goodbye to Longform
With the arrival of Text Editor, we begin to say goodbye to its forerunner, Longform. The Longform Standard Channel will be deprecated in January 2021 and will no longer be available to create as a channel. Instead, you'll have access to Text Editor across all of your team's channels in Opal.
When the Text Editor Beta period comes to an end, the Longform Content Type will also be deprecated. At this time you will no longer be able to create or update Longform content, although you will always be able to access and view your old Longform content. We hope that with the improved Text Editor this goodbye isn't a hard one, but we'll be sure to notify your team prior to the end of the Beta so you're ready when it comes.
Previous | Next