Updated by Erynn Baird
Welcome to Opal
Setting up a successful implementation starts with your team: identifying the key players to help bring your instance to life and goals you will accomplish along the way. In this article, we'll focus on expectations for timing, personal contribution, and setting milestones in order to ensure adoption.
Timeline
The onboarding process is a collaborative approach In partnership with your Opal Customer Success Manager, Implementation Manager and your own onboarding team. Together, you will determine the appropriate timing for rolling out Opal to the team, and the Implementation Manager will shepherd you through every step of onboarding, from kickoff through launch. They will onboard your organization to the platform, develop improved processes to help you get the most out of Opal, and personally train the team to ensure seamless adoption. Below are the phases for implementation:
Configuration: Setting up your workspace, channels/accounts, label sets/labels, and any standardized workflows (if applicable)
Training: This stage includes a series of self-led training courses in conjunction with Opal-led sessions
Launch: 🚀 It's time to celebrate, because your team is now using Opal!
Ongoing adoption: In concert with your Customer Success Manager, you and your team will continue to improve and expand your platform use.
Roles
Bringing on a new technology is a team effort, and onboarding Opal is no different. There are a few key roles to help ensure a successful launch and adoption. Consider the following as you work alongside your Implementation Manager to ensure all teams, roles, and use cases are represented. With brief descriptions; include that Stakeholders and team captains will be the most involved in getting Opal configured and processes outlined. Time commits for the onboarding process for stakeholders and team captains can vary based on the Opal complexity and process needs. This is also where a phased approach will help relieve the onboarding process and ensure smoother adoption over time.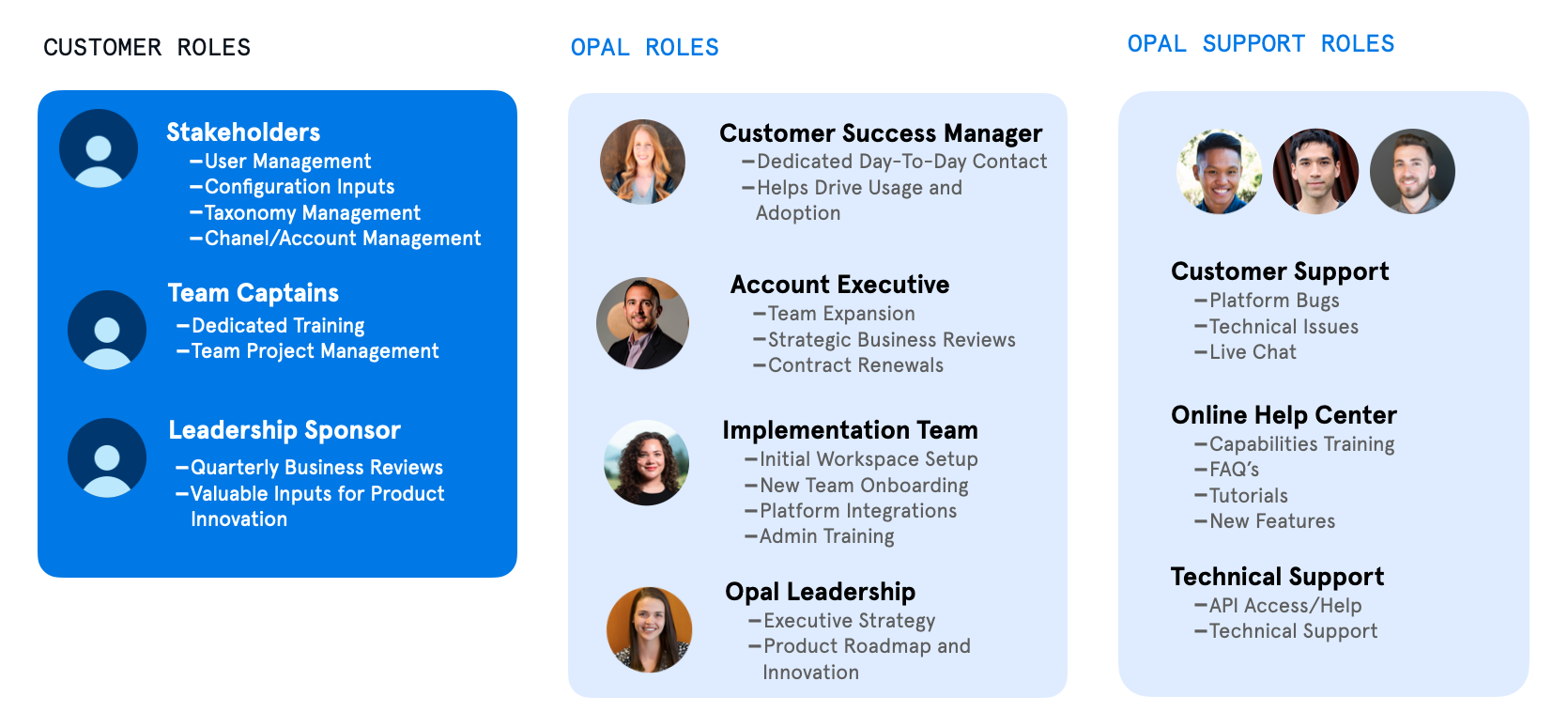 Stakeholder(s): Stakeholders are the primary points of contact when onboarding Opal, and will maintain contact with their Opal Customers Success Manager post-launch. They have a vested interested in the implementation project, are responsible for relaying the executive sponsor(s)' needs from the platform, spearheading the implementation process alongside the Implementation Manager, and maintains a recurring communication cadence with Opal. This role is often filled by:

A Director, Senior Manager, or team lead who holds authority within their own team and has a sphere of influence with adjacent teams or functional groups.
Individuals who are detail-oriented and able to focus on both the immediate needs of implementation while thinking long-term about the ultimate organizational goals.

Opal Team Captains (OTC): Stakeholders and Team Captains work hand in hand to ensure team/group interests and processes are considered during configuration. OTCs coordinate feedback loops from their team, relaying insights and areas for improvement back to the internal onboarding team and Opal's CSM. This role entails the following:

A trusted advisor and team representative who can articulate the benefits of Opal, as well as provide training for new users. They often work cross-functionally in their role and may hold the title Team Lead, Director, Manager, or Strategist.
Guiding the implementation group on their team needs from label organization, structure, process, and channel representation.
Ensure the team's plans, campaigns, and content are properly represented in the platform.

Leadership Sponsor(s): A leadership sponsor plays a critical role when rolling out a new technology platform within an organization. Their support and involvement can significantly impact the success of the implementation and the team's adoption. The leadership sponsor should be someone who:

Brings executive-level support, credibility, and advocacy in moving forward with a new technology. They often participate in removing obstacles hindering the adoption's progress, provide decision-making authority, and secure necessary resources for the platform, including budget, personnel and infrastructure.
Provides strategic direction for the platform's ultimate impact on the organization and advocates for change.
Identify Objectives, Goals, and Milestones
Clearly articulating your organization's vision for Opal and its associated value will help your team embrace the change ahead of them. To achieve this vision, it's imperative to define the values Opal provides at each layer of your organization as well as your primary Objectives. Socializing the values and objectives frequently ensures the whole team aligns on their contributions to the intended outcome. The road to adoption may require phases, which is where establishing goals and milestones will help you measure progress and give your team critical successes along the way. While Goals and Milestones seem similar, Milestones are a barometer for when the team is ready to move forward in its next phase of adoption.
Together with your Customer Success Manager, we will craft an adoption plan to best support your team's utilization of the platform.
Objective Examples
Opal is our source of marketing planning truth. If it's not in Opal, it doesn't exist.
Align on annual themes and quarterly representation.
Cross-functional visibility into all planned campaigns and projects for the calendar year.
Streamline workflow to reduce manual work and increase accountability for where projects are in the workstream.
Goal Examples
Teams A and B will have all editorial content in the calendar within 30 days of launch
Incorporate Opal into weekly content review sessions
Spend less time answering Leadership questions about campaign activations
Milestone Examples
Phase 1: All teams have transitioned their calendar content into Opal.
Phase 2: Start the briefing process in Opal including upstream annual plans, campaign strategy, and creative specs.
Phase 3: Incorporate Workflow capability which may involve adjacent approval teams, such as Creative, SMEs, and Legal.
Previous | Next