Updated by Gary Ploski
Marketing teams need to be more flexible and agile than ever before to continue to move at the speed of the customer. As marketing continues to change, we've seen that keeping track of the ever-growing amount of work is becoming increasingly monumental.
We've learned that you've resorted to looking for tools to try to make sense of it all, but generic tools written to for generic processes just aren't good enough. They're disconnected and rigid, and that slows you down.
No more compromise.
We're excited to introduce to you Workflow. Workflow is purpose built for marketing. Workflow is designed to give your teams greater structure yet flexibility to support their unique workflows. It's designed to bring their work closer to the process. Workflow allows your team to capture, assign and complete all the steps and phases needed to take content from idea to publish.

Let's walk through how Workflow in Opal will look like.
Workflow on Content
Tasks and Approvals alongside content puts your work next to your to-dos. No more out-of-context to-do lists. No more switching back and forth. The work and content live side by side.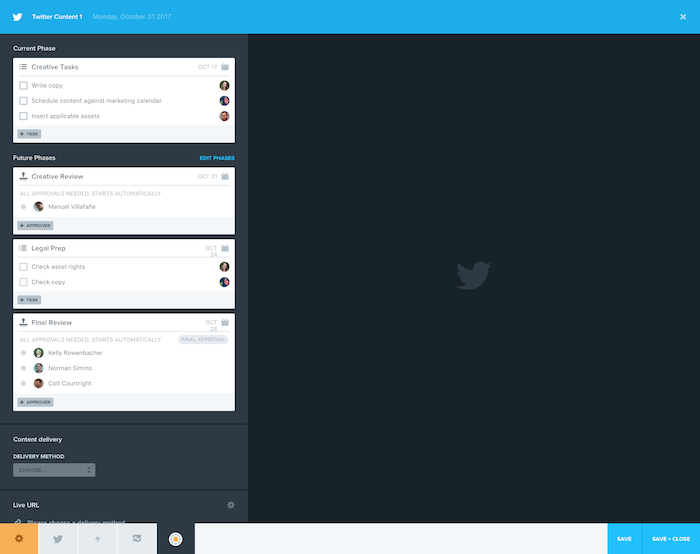 Construct your workflow the way you need it using the approval phases you already know alongside our new task phases.
With task phases you can construct a Workflow that better represents your full content lifecycle from creation to approving to editing to delivery. And with the ability to better represent your content lifecycle you'll also have more visibility than ever to see the progress or see its work and approval history.
Personal Panel
Tasks tab has been added to the Personal Panel! The Personal Panel can be found by clicking on your avatar or by using the keyboard shortcut Alt-Shift-P.
Now you can keep track of all the work you have to do in Opal.
View your current Tasks separated into progress categories.
Click on an individual task to find out more details on what all those "Add Copy" task really means. Find all the details you need to understand the work you need to do.Or even complete the task inline if it's ready to go!
Templates
With workflow inheritance you can bring scale to your workflow
Templates enable you to construct precise work back plans based on workspace, story, or channel and have that work back plan be applied automatically. Cascading workflow templates keep campaigns and their content organized from the start.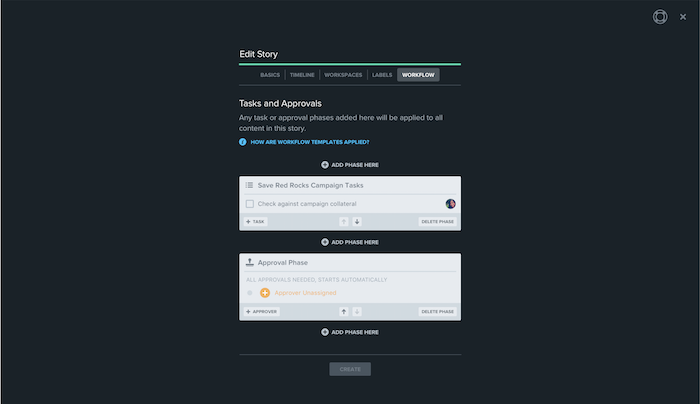 Whether your team does a handful of content a day or the hundreds. Templates will save you time, and ensure work back consistency at the scale of how you work.
We hope that you'll find that workflow in Opal brings a new level of transparency, visibility, and consistency throughout your content creation lifecycle. Enjoy.
Previous | Next