Updated by Gary Ploski
What is Opal?
Opal is the marketing calendar that unites teams everywhere.
Opal enables teams to create, visualize, and deploy campaigns across all marketing channels.
Opal's strength starts with three key needs: visibility, alignment, and efficiency. As you and your team create and collaborate in Opal, you'll find that you have more insight into the work being done and have a central place to provide feedback.
Regardless of your role today or in the future, Opal makes it easy for you to see what is happening, orchestrate your campaigns, and engage with the team and content in one place.
Working in Opal
Before you take your first step, let's walk through each part of your workflow in Opal and how your team will work together.
StoryFirst™ Framework
Opal's StoryFirst framework is an organizational principle that improves marketing team performance by first unifying your work around a story before planning for your channels. The StoryFirst framework is made up of three layers:
Stories
Moments
Content
Create

Your team will work together to bring campaigns to life through the creation of stories, moments and content.
Once a story is created, moments will be added to it, signifying important milestones and dates along the timeline of the story. Content for relevant channels will be added to the moments within the story.
Collaborate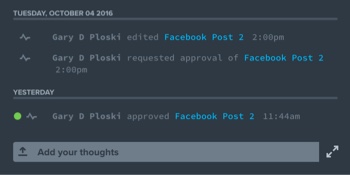 As your team creates moments and content, collaboration will take place in-line with you work, ensuring everyone is on the same page.
Use Chat and Activity to @mention colleagues with questions and comments. Your colleagues will be alerted via notifications and by email and can easily join the conversation.
Share

Send a single piece of content, or a batch of content via a presentation, to Opal and non-Opal colleagues for discussion or review.
Approve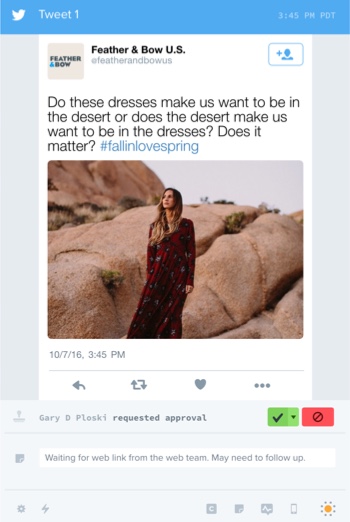 Getting final sign-off from the right people before publishing your content can be challenging without the right system and tools in place. Opal simplifies the approval process through a built-in approval workflow.
Once content is ready for review, send content for approval. Use approval phases, so essential team members can approve your content at the appropriate time.
Deliver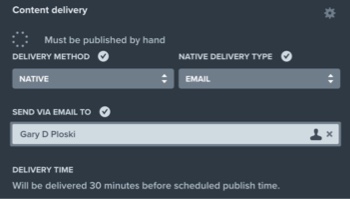 After your content receives final approval, it's time to publish. Use Opal's content delivery feature to deliver content to your phone or email inbox.
If your Opal is integrated with a publishing platform, approved content can be delivered to your publisher automatically. Opal will deliver content to your publisher in a draft/pending publication state, so someone can look it over one final time before it is published.
Previous | Next