Updated by Gary Ploski
A workflow in Opal is the culmination of all task and approval phases associated with creating and approving a piece of content or a moment.
You can build out a workflow for every piece of content by navigating to the workflow & delivery tab in the content composer. Additionally, these workflows can be set up at the Story or Channel Account level so that your content inherits workflows as needed.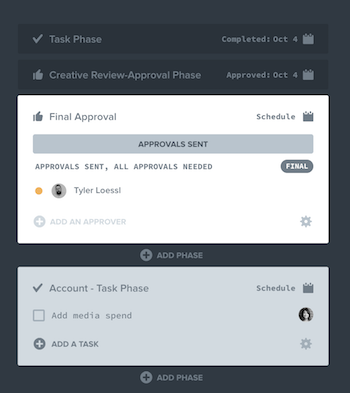 Approval Phases
Getting final sign-off from the right people before publishing your content can be challenging without the right system and tools in place. Opal simplifies the approval process through an approvals system built right into your content workflow.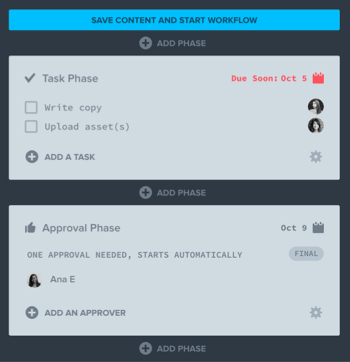 Approval phases are used to request approval of content before it is published. At least one approval phase must be executed on a piece of content in order for the content to be "approved".
Any number of approval phases can be added to a workflow in order to ensure every piece of content receives the sign off it requires. Any number of users can be added within any approval phase to ensure all approval requests get sent to all the right people.
Note: By default, content will automatically approve the first approval phase for a user if they are the same person who clicks "Save and Start Workflow" to start workflow.
Important: The last approval phase in a workflow is called the Final Approval phase. No additional approval phases can be added after the Final Approval phase is complete
Task Phases
A task phase is a list of tasks that can be assigned to any one user with access to a piece of content.
Task phases were designed to be free form and can be used to solve for a variety of use cases. Tasks can remind a user to do anything from "add copy" to "add an asset" to "prepare content for legal review" - any task that is required of any user before content can be published.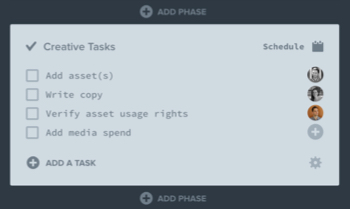 Workflow Web Popover
The workflow popover offers a quick look at the content's current approval and task status from any view across Opal where the content card is found.
The workflow popover includes all the details included in the Composer's workflow and delivery tab such as a complete overview of every phase, the current status of any phase, approval responses, task assignees, and the due dates of each phase if applicable.
Tip: Start, resume, and re-submit approval requests via the workflow popover.
If the workflow is in an active task phase, the individual tasks can be completed via the workflow popover. The "Edit Workflow" button on the workflow popover will directly open the workflow & delivery tab of the Composer where changes can be made to future phases.
To open the workflow popover, click on the approval status dot on the bottom right-corner of the content card: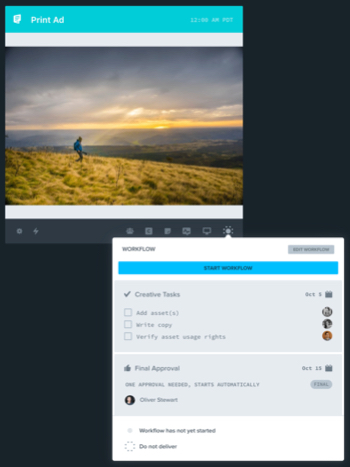 Workflow on Mobile
Workflow can be viewed and engaged with on each piece of content via the mobile app. The following actions can be accomplished:
View tasks
Complete tasks
View approval requests
Complete approval requests
Change phase due dates
View present workflow phase
View past and future workflow phases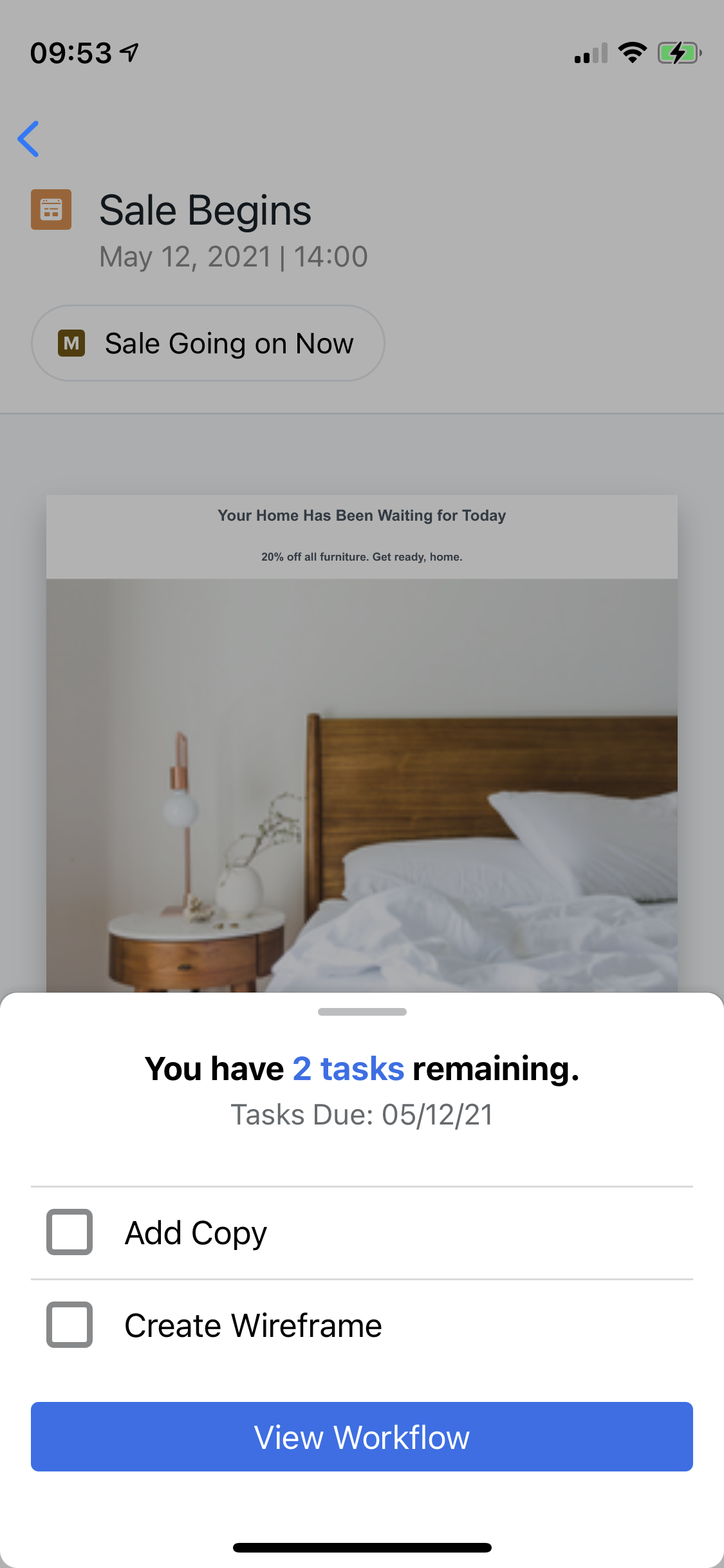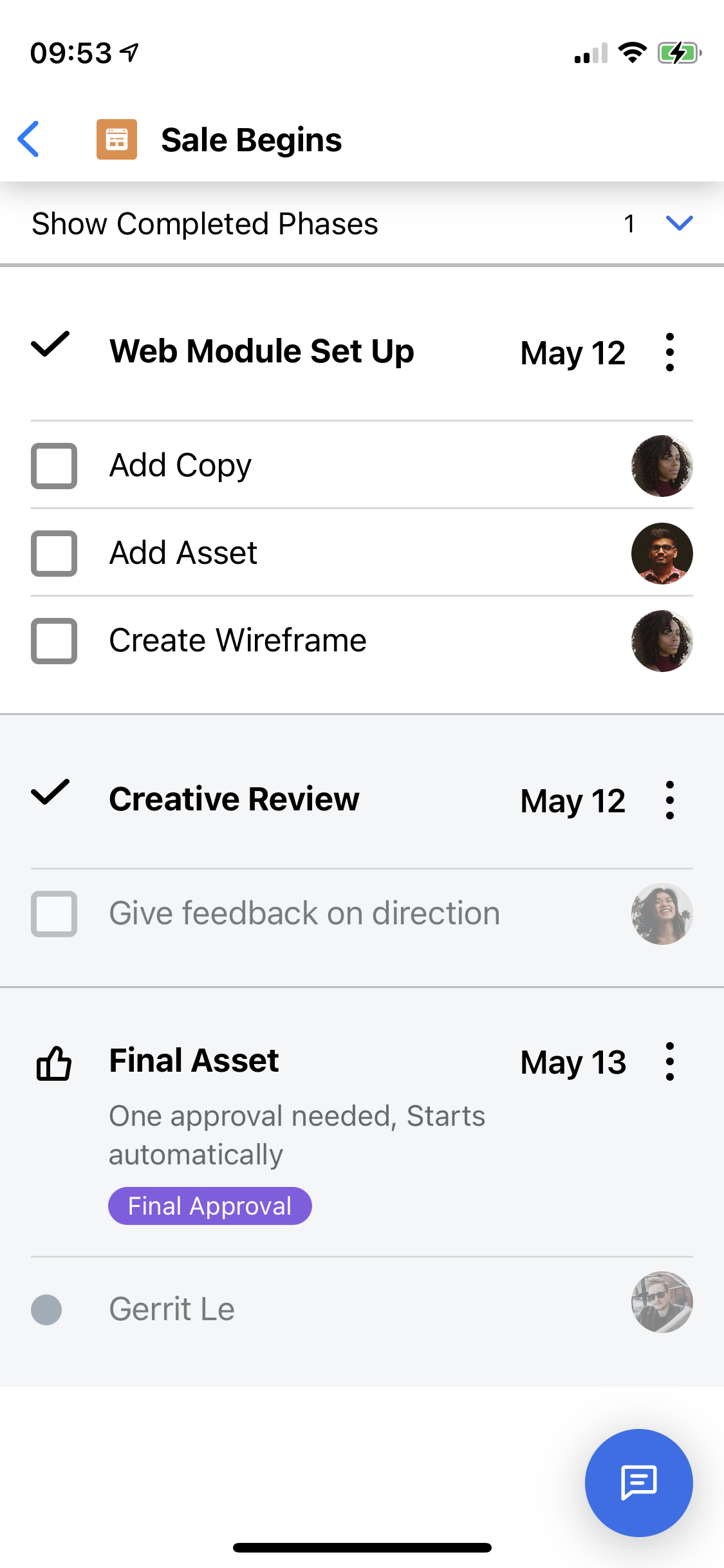 Configuring Content Phases
Phases can be manually added to every piece of content during creation, or content can inherit a preconfigured phase(s) from its workspace, story, or channel account. Setting workflows at any of these levels will automate setting up the workflow for every piece of content upon creation.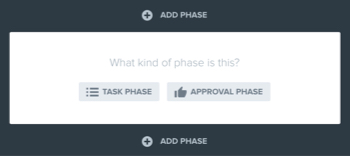 Note: Content inherits workflow, first from the story level, then the channel account level, and lastly the workspace level. Phases are arranged within a piece of content in this order. 
Your Tasks & Approvals
Any task or approval request must have one user assigned. All assigned users will be able to access their outstanding tasks from their Personal Panel.
Users will be able to see all content requesting their approval from within their approval queue.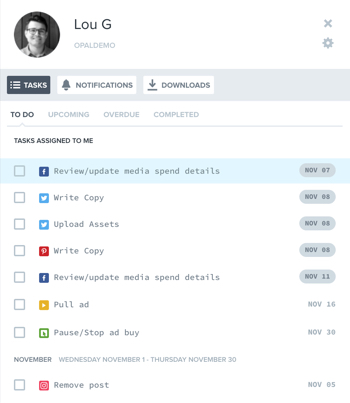 Previous | Next