Updated by Gary Ploski
Content is the culmination of creative copy, assets, notes, etc. that is created within a moment to tell a story's narrative. Opal facilitates collaboration with your whole team during the content-creation process, keeping everyone aligned from creation to publishing. Create as many pieces of content as needed to tell your story through limitless channels, ranging from social and web to radio, print and beyond.
Below we've outlined some of the key components that make up a piece of content and how they relate to Opal's StoryFirstTM framework.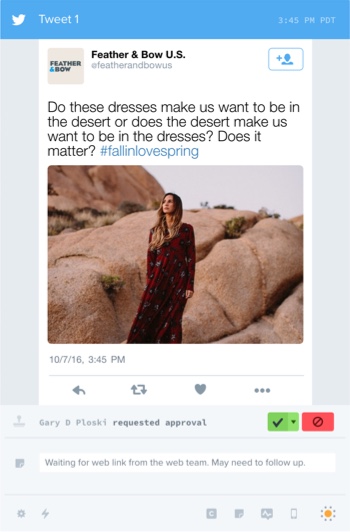 Content
Every piece of content must be created within a moment. Any moment containing content may be associated with one or more stories. Stories and moments will give direction to your campaign, but your content is what brings your message to life.
Create content by uploading assets, copy and channel-specific details to preconfigured content templates. You'll be able to collaborate on every piece of content by providing feedback, leaving a note or requesting a colleague's approval. Various actions can also be taken on content, such as sharing content with a colleague or downloading content assets to your computer.
Once content is created, it will be visible by everyone within your workspace. When your content is finalized and ready to go out the door, you can publish it manually or via one of Opal's publishing partners, streamlining the publishing process for all channels.
Previous | Next