Export Content Metadata to CSV
Export Content Metadata to CSV
Updated by Gary Ploski
Visualizing and creating content in Opal is a great way to view, track, and build all of your content during the creative and approval process, but sometimes we need to roll up our sleeves and see a more holistic, data-driven view. For this, we suggest exporting your content to a CSV.
Build a CSV Export
Navigate to the Calendar.
From the top right-hand corner, select the "Actions" dropdown.
Select "Export to CSV."
Give your export a name.
Customize the CSV template to include all content or specific content using filters.
Click "Export."
When Opal has finished exporting content, you will receive both an email or personal panel notification with a link to download your export.
Note: There is no maximum row count for each CSV export.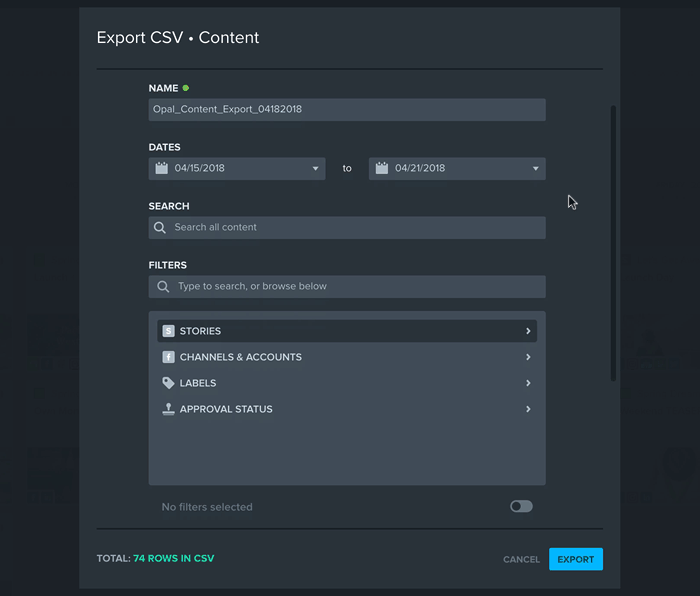 Anatomy of a Content CSV Export
Details about content, moments, and stories are included in the CSV export.
For every CSV, each row represents an individual item and each column represents specific data that may or may not be included. Below are all the columns that will be included in every Content CSV export.
Content ID
Content Allocation
Content Name
Content Published Date
Content Start Date
Content End Date
Content Assets
Content Note
Content Created At
Content Type
Content Account Name
Content Channel Name
Content Last Updated At
Content Live URL
Content Approval Status
Content Copy
Content Link
Content Snapshot
Content Placement Name
Moment ID
Moment Budget
Moment Name
Moment Start Date
Moment End Date
Moment Link
Moment Note
Primary Story ID
Primary Story Budget
Primary Story Name
Primary Story Start Date
Primary Story End Date
Primary Story Link
Stories Names
Stories IDs
Stories Links
Label - Audience
Label - Function
Label - Use Cases
Data - Content
Data - Image
Data - Preview Image
Data - URL Input
Data - Body Text
Data - Asset Reference
Data - Headline
Data - Description
Data - Content
Data - No. of Emails / Notifications Delivered
Data - No. of Emails / Notifications Clicked
Data - No. of Emails / Notifications Opened
Data - Email / Notification Open Rate (%)
Data - Email / Notification Click-to-Open Rate (%)
Data - Content
Data - LinkedIn Reactions
Data - Text Alignment
Data - Text Alignment
Data - Text Alignment
Data - Content
Data - Date - Metrics Updated
Data - URL
Data - Event / Webinar Registrations
Data - Column 1 Content
Data - Column 2 Content
Data - Text Alignment
Data - Asset Alignment
Data - Description text
Data - Primary CTA
Data - Secondary CTA
Data - Asset Layout
Data - Web Image
Data - Asset 1
Data - Footer - Asset
Data - Header Asset
Data - Primary CTA 1
Data - Subject
Custom - All custom fields will be included
Previous | Next