Updated by Gary Ploski
Longform allows for content to be created for blogs, email, newsletters, and more.
Important: Longform content is no longer supported. Use the Text Editor channel in place of Longform.
Create Longform Content
Navigate to a moment and click to open it.
Click "Add Content" and select "Longform." Please note that this may be noted with a unique name for your team, e.g. Blog.
Click on the longform content card to open the Composer.
Within the Composer, complete the required fields that are noted with orange indicators. e.g. content type, account and time.
Click anywhere in the body of the Composer to add copy to the header, body, or footer.
Add additional text sections by clicking "Text" or pressing enter/return on your keyboard. 
Change the text section formatting by clicking the double-arrow then the desired format option.
To attach an asset, hover the mouse above or below a section of text, then click the "Open Asset Library" icon to select an asset from the Asset Library or "Upload Asset" icon to upload an asset from your computer.
To finalize your edits, click "Save" or "Save + Close."
Tip: When creating Web or Email you can select the content type "Freeform" to create long-form content.
Work with Longform Content
Only one person can edit a piece of longform content at a time.
Changes to longform content must be saved or discarded in order to make it available for someone else to edit.
Assets must be uploaded from your computer.
If someone is editing longform content that you would like to edit, @mention them via Chat & Activity.
Text Formatting Options
The following options are available within longform content.
P - Paragraph text
H1 - Large header text
H2 - Medium header text
H3 - Small header text
Quote - Quoted text
Numbered list - Display a numbered list
Bulleted list - Display a bulleted list

B - Bold text
I - Italic text
U - Underline text
Chain Link - Hyperlink text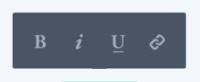 Content Options
Open Asset Library - Add assets from the Asset Library to your Longform content
Upload an Asset - Upload assets to the asset library to share them across multiple pieces of content
Text - Add a new text section
Tip: Create new paragraph text sections by pressing enter/return on your keyboard.
Tip: To delete a paragraph section, highlight all the text in the section, delete it, then hit delete once more.

Version History
While editing longform content, changes will be autosaved.
A new version is created when the content is saved.
Browse or revert to previous versions of longform content.

To see what changed on one specific version, simply click the change record to reveal longform change-tracking capabilities.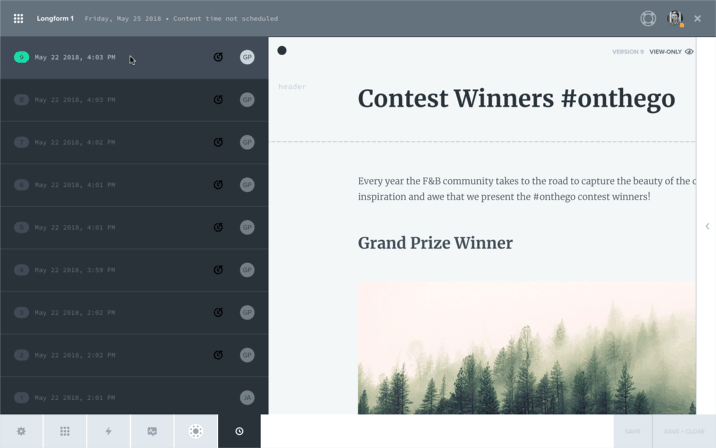 Export Content
Take your longform content straight out of Opal and into your longform tool.
Navigate to a piece of content.
Click the … icon.
Next, click "Export Content."
You will be prompted to select Markdown or HTML. Clicking on either option will compress the assets and copy into a .zip file that will save to the default download folder specified in your browser.
Previous | Next