Updated by Gary Ploski
Opal now supports Facebook Canvas Ads, Facebook's new mobile-exclusive ad type. This new immersive ad type gives brands a powerful way to tell their story with the flexibility of multiple sections like carousels, product catalogs, tilt-to-view images, and videos.
It's easy to create a Facebook Canvas Ad in Opal. Simply create a piece of Facebook content and then select "Canvas Ad" in the list of "Content Type" options. Once created, add as many sections as you need.
Feed Unit
The entry point of any Canvas Ad is what Facebook calls a feed unit. This section is very similar to most of Facebook's other ad types but with a clickable media section that opens up the canvas ad for the user. The feed unit is pinned to the top of a Canvas Ad in Opal with optional sections to continue building out the ad.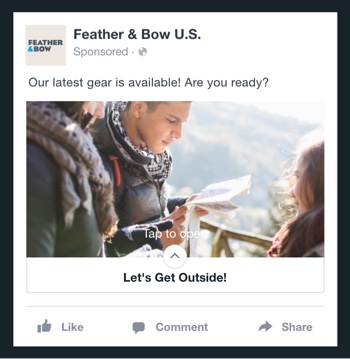 Adding Sections
To build out a Canvas Ad in Opal, click "Add New Section" and choose one of the following sections: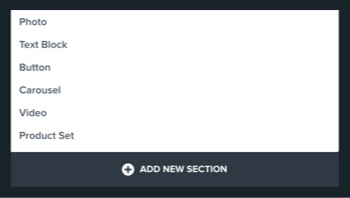 The Header section will remain pinned to the top of the various sections in the ad where you can add an image.
The Photo section gives you the option of uploading an image and selecting the type of photo, either default, tilt-to-pan or tap-to-expand which are represented by icons in Opal.
The Text section allows you add a section and add text.
The Button section is a standalone CTA-style button that allows for a click-through link.
The Carousel section is a gallery of images that a user can scroll through. You can feature up to 10 images in a carousel.
The Video section allows you to add a section and upload a video placeholder image.
The Product Catalog section represents product feeds that are uploaded into Facebook. Within Opal, you can select the number of products to show within the feed.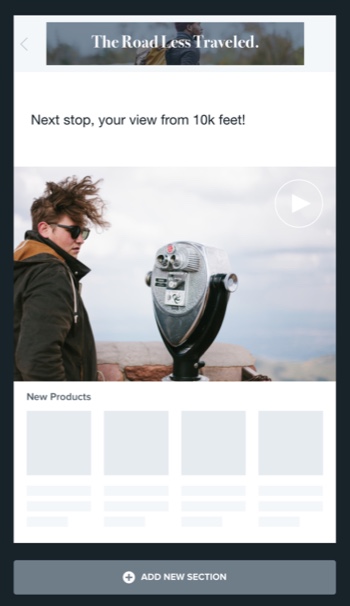 With Opal, your team has the platform to organize and orchestrate the various Canvas Ad sections to help tell your brand story. We'll continue to provide a rich creation environment for emerging content types and platforms.
Previous | Next