Set Up Your Opal for Success
Updated by Gary Ploski
Opal provides the flexibility to configure and utilize your workspace to best support the way your team works.
Getting Into the Opal Mindset
Stepping back and looking at how marketing is accomplished, there are a few key items to consider before configuring your workspace:
Organization
Content
Process
While working with hundreds of teams, we've identified a few best practices for how to make these decisions. To start you on the path to success, we recommend thinking through the following questions:
How do you organize content?
What content will be planned in Opal?
How can you utilize Opal's StoryFirst Framework?
What repetitive actions are part of your playbook?
You may not have answers to all of these questions - that's okay. As you answer each question, you'll ensure that your Opal is optimized for the needs of your team.
Let's get started!
How Do You Organize Content?
One month, quarter, or year from now, you might want to look back at what was in market, had media spend, was targeted to prospects, etc. To accomplish this, you'll need some form of metadata that fits your team's structure, and something that is done in a time saving way.
Opal's labels, custom-configured metadata, and label sets, collections of labels, make it easy for someone on the team to accurate create content today, so anyone can find what they need tomorrow.
While labels are not a requirement, they help with organizational success. Think of labels like you would tags. They can be added to your work to make it easier to view, search, and share related to a specific category, audience, region, and more.
You can set up an unlimited number of labels, though we recommend starting with 1-2 label sets to determine how helpful they will be for your team.
Here are some common questions to help determine which label sets and labels to include in your workspace:
How do you currently organize your content?
What are your reporting responsibilities?
What is your executive leadership most interested in seeing?
Common Label Set and Label Examples
We've identified the most common label set and label examples across our customer base. Before you review these examples, here's is a sample of a label set and labels:
Label Set: Season
Labels: Winter, Spring, Summer, Fall
Now, use these commonly used label sets and labels, to get your team organized!
| | | | | |
| --- | --- | --- | --- | --- |
| Team | Category | Audience | Region/Market | Pillar/Objective |
| Consumer | Baby | Commercial | APAC | Awareness |
| Digital Advertising | Kids | Consumer | Canada | Conversion |
| Internal Comms | Young Adult | Prospect | EMEA | Loyalty |
| Global Comms | Men | Employee | LATAM | Thought Leadership |
| HR | Women | |  United States | |
Nested Label Sets
You also have the option of creating nested label sets, which are used as the "child" subsidiary of a "parent" label. A nested label set is triggered off of a parent label, and allows for clearer organization. We recommend starting simple and only including nested labels if you're leaning into a previous taxonomy that requires it.
You can read more about how to use Labels and Nested Label sets.
What Content Will Be Planned in Opal?
You can plan just about anything in Opal! From social posts and digital advertising to employee emails and retail signage, Opal provides the ability to visually represent your work.
Pro-tip - Channels are the medium, e.g. Facebook, and the accounts are the specific profiles.
If your goal for using Opal is to provide leadership with visibility into your strategy, as well as create alignment across your team(s), then cross-channel representation is most likely critical, and you'll want to add multiple channels and accounts.
If the goal is to solve for efficiency and alignment for your team, you may only add the channels and accounts related to the work you do. You can always add more down the road.
Standard and Custom Channels
Once you've figured out what to channels to add, what's the best way to set them up?
We offer both standard channels and custom channels. When configuring Opal, you can select from a dropdown of pre-configured channels that provide near 1-to-1 in-market representation. These include social channels and SMS.
When it comes to planning for most other channels, we recommend using a custom channel. The way content is organized in an email or on a website varies greatly from team to team. Custom channels provide flexibility to get an accurate visual representation of the work you do, and provide a variety of options to create - including a text editor, modules, URL preview, asset, documents, and audio.
You can also customize the names of the content types, e.g. Billboard, Email, End-cap, etc., and sub-channels, e.g. Account, List, Page, etc.
Here is an example of what this would look like for a custom email channel:
Custom Channel Name:
Custom Sub-Channel Name:
Custom Sub-Channel:

Employees
Prospects
Customers

Custom Content Type Names:

Text Editor -> Email Draft
Modules -> Final Layout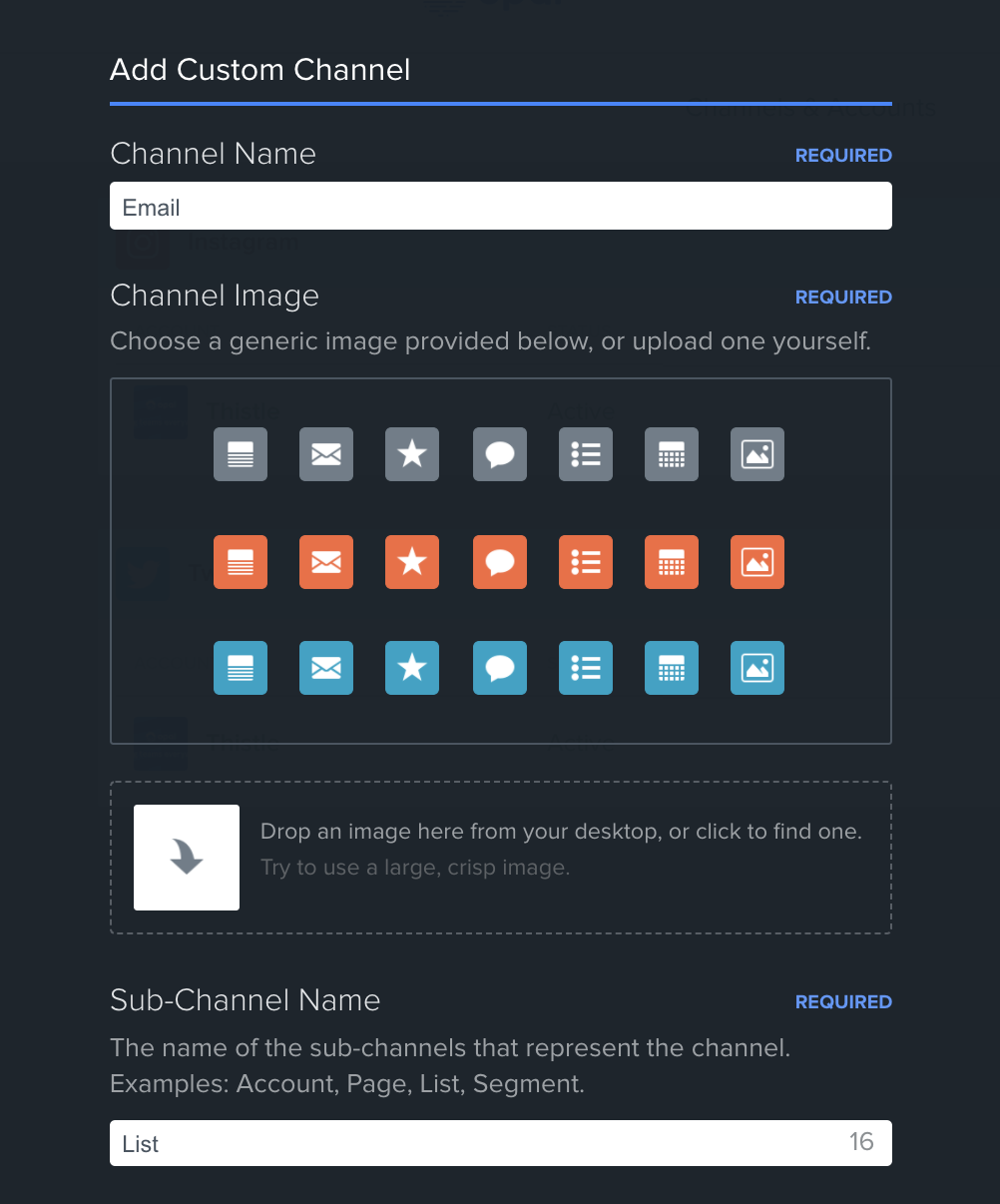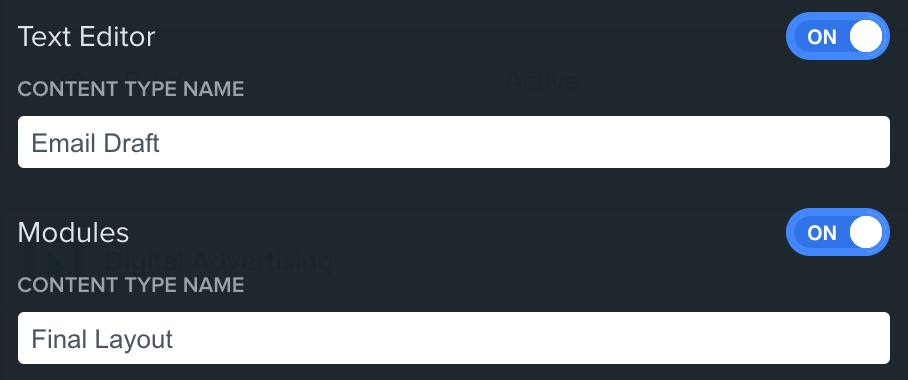 StoryFirst Framework
The StoryFirst Framework is an organizational principle that helps teams organize around an overarching initiative, campaign, event or project and is made up of three elements:
Story
Moment
Content
Stories
Like labels, planning through the StoryFirst Framework helps you stay organized and is optional. For example, you may be creating work that doesn't ladder into a bigger story. In other words, you can create content and moments that exist outside of a story.
If you do choose to utilize stories, we recommend the following:
Story timelines should represent a concentrated group of moments - by theme, product release, or concentrated effort.
Annual campaigns should be added to an "Evergreen" story, and moments and content should be categorized specifically per Product, Theme, etc.
Use the description field in the story creator to provide story details.
Create a custom channel called 'Brief' and add your various brief types as accounts, e.g. Creative Brief, Strategic Brief. Create your brief as a piece of content at the start of your story.
Story Naming Conventions
We've found that some teams adopt a naming convention depending on the amount of stories being planned. Here are some examples:
Type

Naming Structure

Examples

 Campaign

Campaign Name | Primary Industry/Solution | Story owner

Resilience at Work | Cross-Solution | George Huff
Covid-19 Return to Work | HR

 Product

Product Vertical | CTA

Financial Industry | Upper Funnel Dev
Loyalty Program Registration
Thought Leadership | Executives

 Initiative

Year Season Initiative

2021 Fall Product Release

 Regional

Region Product Focus

APAC [Product] Awareness Campaign

 Event

Event Name | Year

SXSW 2022
Open Enrollment Fall 2021 
Moments
Moments are the containers for your content and can last more than a day.
We recommend grouping together related content into a single moment. For example, if a new product is being launched, you'll create a product launch moment and include related content within such as social posts, a website update, and an email send.
You can also apply workflow to a moment to keep work moving forward with tasks and approvals. For example, instead of sending five separate approval requests for five pieces of content, you can send it all out for one approval.
Like stories, you may choose to adopt a naming convention, we recommend keeping it simple, short, and easy to comprehend.
Here are some example moment naming structures:
| | |
| --- | --- |
| Moment Naming Structure | Examples |
| CTA | Platforms | Registration | Social Push (PAID) |
| Abbreviated Blog Title | Executive | Case Study | Gorman  |
Content
Depending on the type of content being created, we have a variety of best practices. Here, we'll keep it to the most universal.
If you often create multiple options of content as part of the creative review process, simply duplicate your first piece of content, name it Option 2, and then make any updates. Repeat this process to create multiple variations. Once you determine the final pick, we recommend deleting the variations to keep Opal your source of truth.
If content doesn't get used as part of the moment it's in, go to Moments and view by week, make sure 'Show Content Cards' is selected under the options gear, and drag the content card to a new moment. If another moment isn't available, click on the plus button to create a new one.
Chat and Activity is an ideal place for collaboration! If you want to leave in-context feedback on an asset or copy feedback, use the annotations functionality.
What Repetitive Actions are a Part of Your Playbook?
Any of your teams' work that could be categorized as repetitive, as in there are a set of things that you do that are the same each time, we recommend utilizing Stamps. For example, each time you launch a new product, you have the same type of marketing plays, e.g. multiple social posts, email sends, and website updates.
Stamps provide an incredibly simple and fast way to re-use and re-purpose already created moments and content, leading to greater efficiency and consistency for your plans and current and future Opal users.
Here are some ideas for the type of work that could be saved as a Stamp:
Brief
Blog launch
Product launch
Email newsletter
Push notifications
Media kit
Intake forms
In-store signage
Paid social bundle
To read more about how to implement stamps, click here.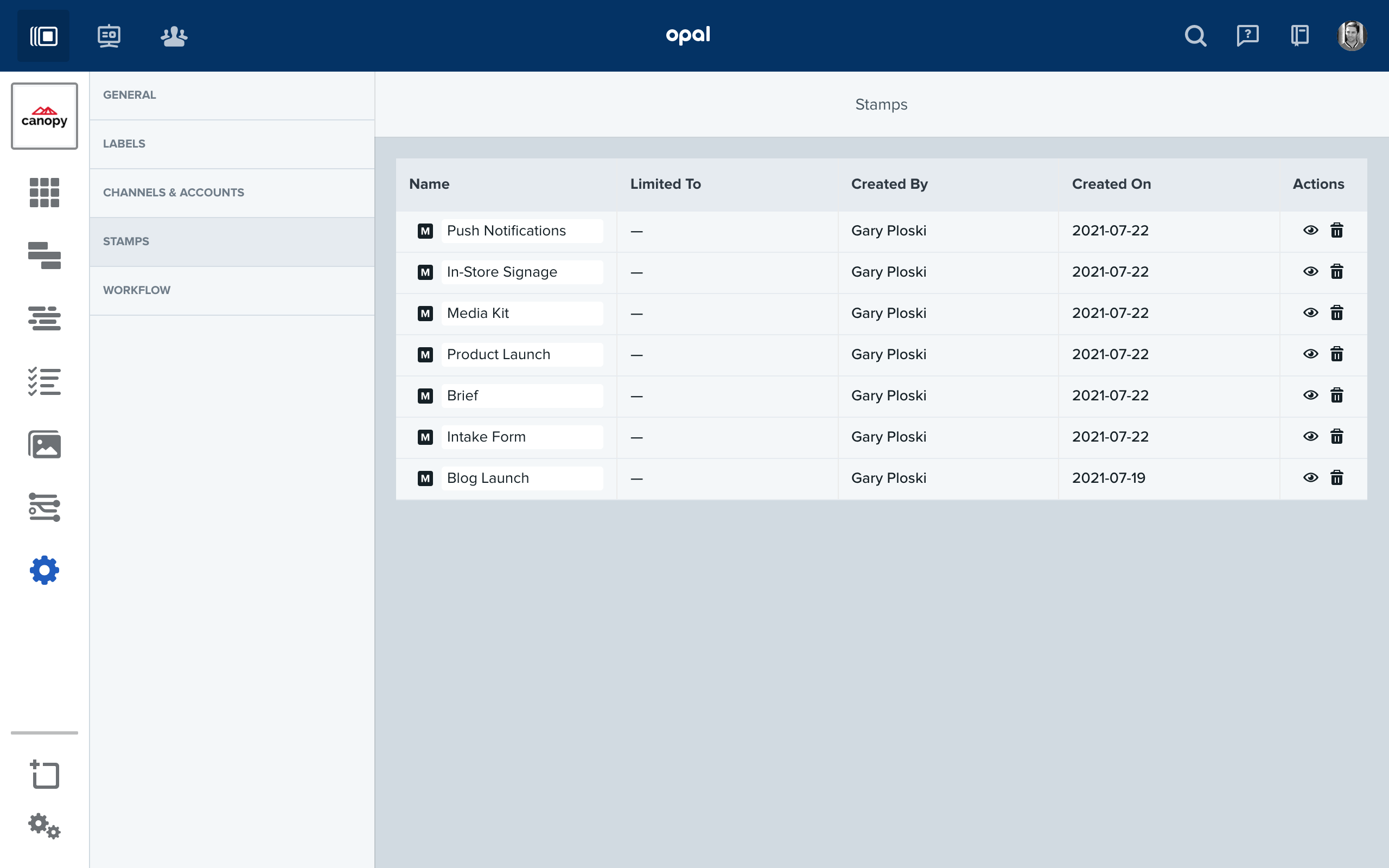 We're Here to Help
If you have questions on any of this functionality, please reach out to your Customer Success Manager or support@workwithopal.com.
Previous | Next