Reduce Time, Reuse Ideas, Recycle Workflow with Templates
Reduce Time, Reuse Ideas, Recycle Workflow with Templates
Updated by Gary Ploski
Some campaigns require a unique release plan or media mix. Some, don't.
When you want to repurpose a campaign plan, media mix, or a single piece of content, Opal has solutions to save you time and clicks, while putting yourself or your team on the path to success! That's the purpose behind the popular Stamps templates.
Anyone on the team can use Stamp templates and duplication to recreate complete campaigns, milestones, and content.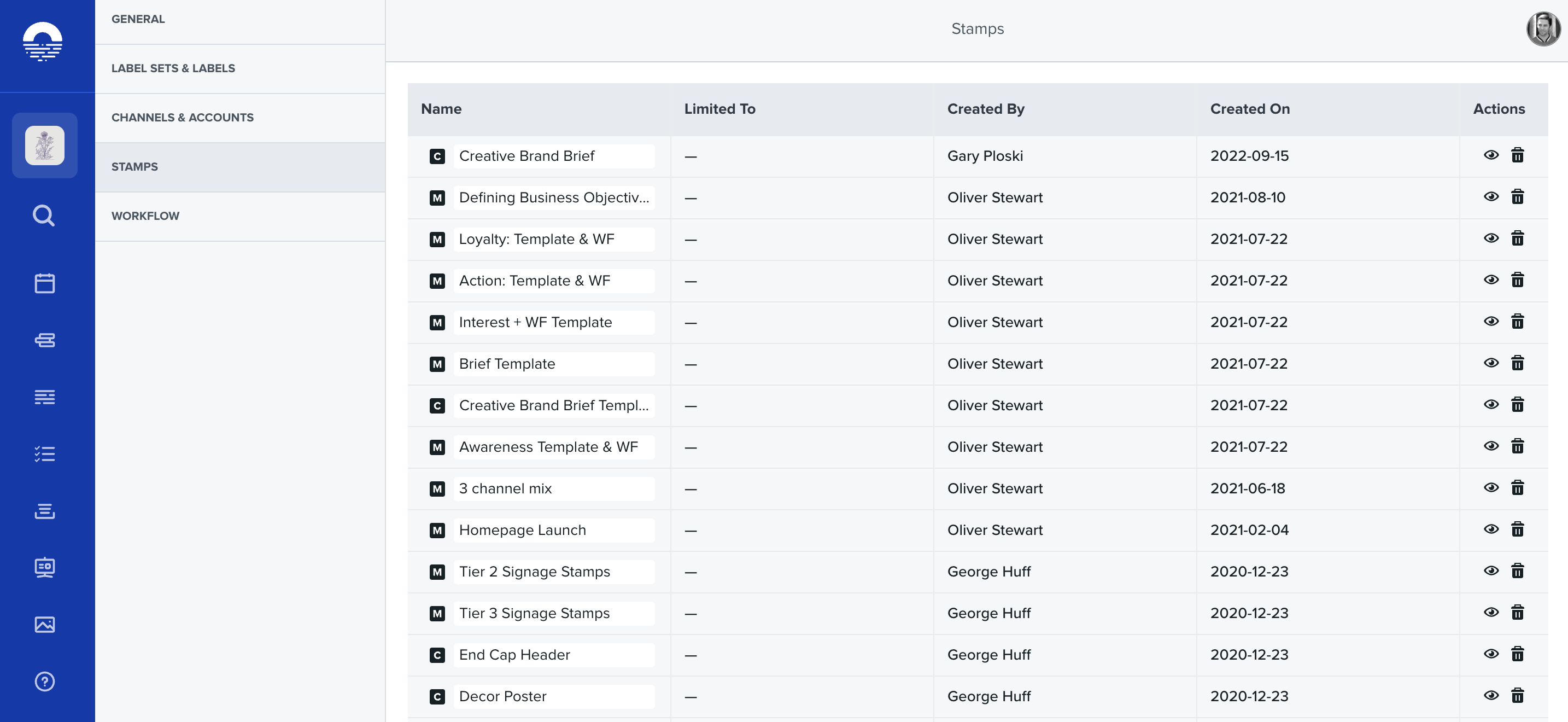 Campaign Redux
A great campaign takes time to develop and refine. If you know it works, it only makes sense to rely on it again.
When you want to use a previously successful campaign strategy, save time by duplicating the story. This allows you to dive into the creative and supporting details since the structure is already in place. By implementing this, you can go to market as soon as possible .
Some example situations include:
Stories that include a recurring publication schedule, e.g. content is released every Tuesday and Friday
Stories that always use the same label structure
Everyone on your team has instant access to duplicate any story, and all of its details!
In as few as three clicks, every part of your campaign can be available for the team.
Navigate to a story.
Click ⋮, then "Duplicate."
Select your preferred duplication option.
Click "Duplicate."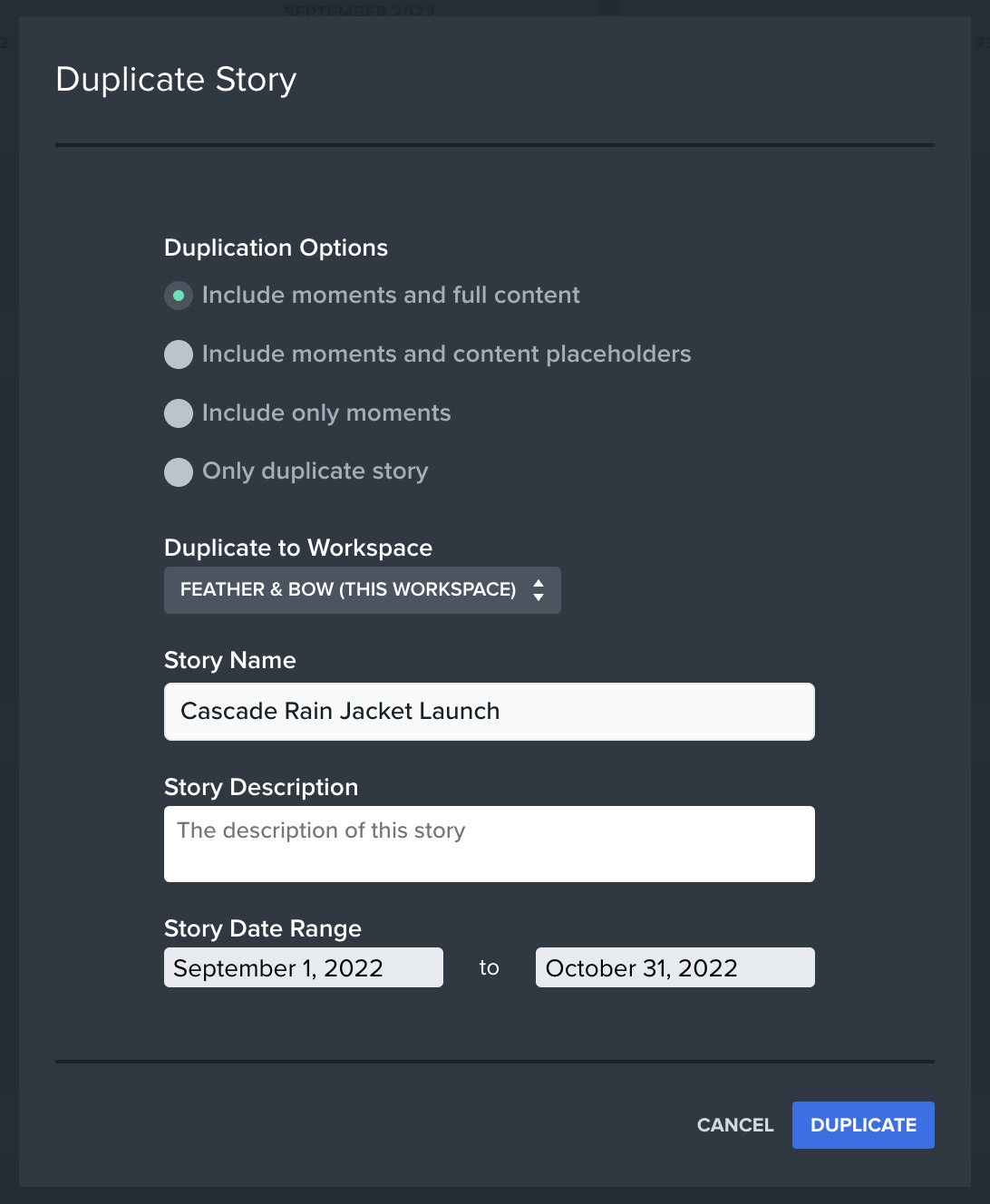 Reduce Repetitive Actions
Save time, and clicks, by saving recurring marketing plays as Stamp templates.
Consider what is involved with every new product launch, press release, or event. You're probably creating the same number of social posts, emails, and website updates.
Instead of creating these media mixes manually, everything can be saved as a Stamp template – to be reused time and time again.
Some Stamp template examples we recommend include:
Blog
Brief
Email newsletter
In-store signage
Intake forms
Media kit
Paid social bundle
Post-campaign summary
Product launch
Push notifications
Standardize Workflow
When workflow is established for colleagues and teams, Stamp templates will save time and prevent workflow mishaps. With everyone aligned on roles and responsibilities, the team can focus on creative development.
Create a moment, or content – or both – then save the Stamp template. Just like that, you're all set up for standardized workflow on future campaign development!
These are some projects that can benefit from standardized workflows:
Emails 
Localizations
Paid Social Ads
Press Releases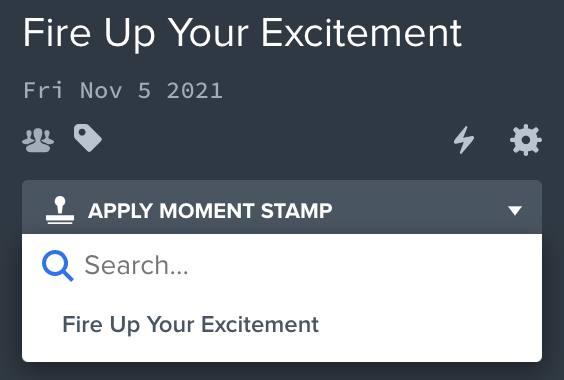 Establish Copy Structure
Briefs, blogs, and emails often have a copy structure that is reused over and over.
Save your established copy structure as a Stamp template. With just a couple clicks, your team will be set up to add creative copy to bring the next campaign to life! Once again, this ensures that the focus stays on what you write – rather than the format.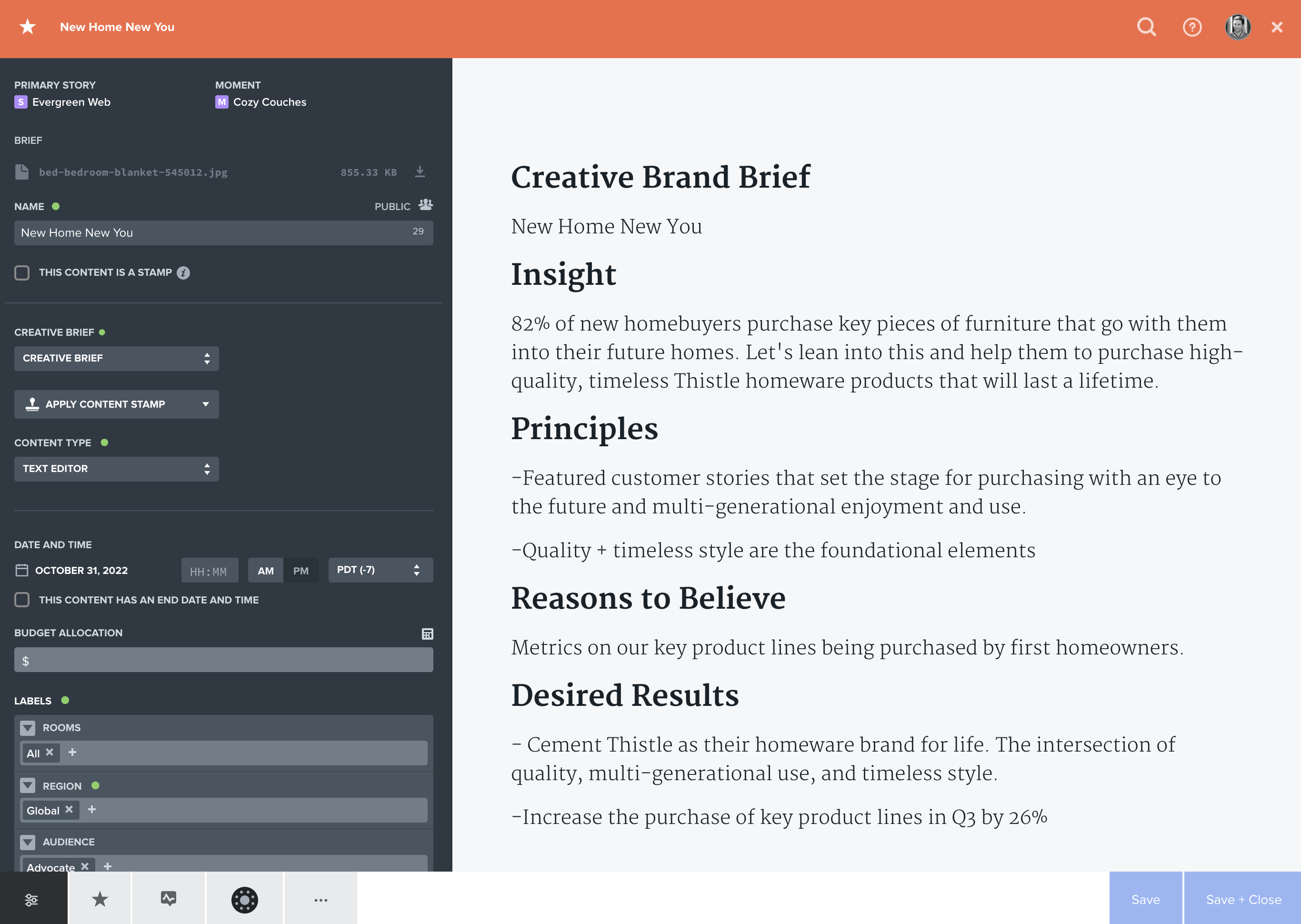 Organize Stamp Templates
Stamp templates can be built or edited by anyone on the team.
We have a number of suggestions on how to make it easy for everyone to find Stamp templates when editing is needed.
Consider how your team works and incorporate one or many of these recommendations:
Store all Stamp templates on the same day, e.g. the first day of the year/fiscal year.
Add 'Stamp' or 'Template' to the name, e.g. Launch Template, so that it can be found with a keyword search, and to prevent accidental deletion.
Each quarter, take the time to review available Stamp templates.
Don't delete Stamp templates. Instead, uncheck "Is a Stamp" when it is no longer needed.
Note: Admin users can see all Stamp templates via the admin configuration menu.
Previous | Next