Updated by Gary Ploski
Use placements to specify when and where content will appear.
A placement is a space that your website content can occupy on a specific webpage. That placement may be any number of spaces such as the logo, navigation bar, hero, carousel, email sign-up, footer, etc. Content can be associated with a placement via the Composer.
Select a Placement
Navigate to a piece of content.
Click the content card.
Below Placement, click the dropdown arrows.
Select the intended placement.
Click "Save" or "Save + Close."
Tip: To see a preview of your content alongside other content scheduled for the current day, click "View Placements."
Note: Available placements are managed by an Opal admin. Contact your Opal admin if you have questions about the placement options available in your Opal.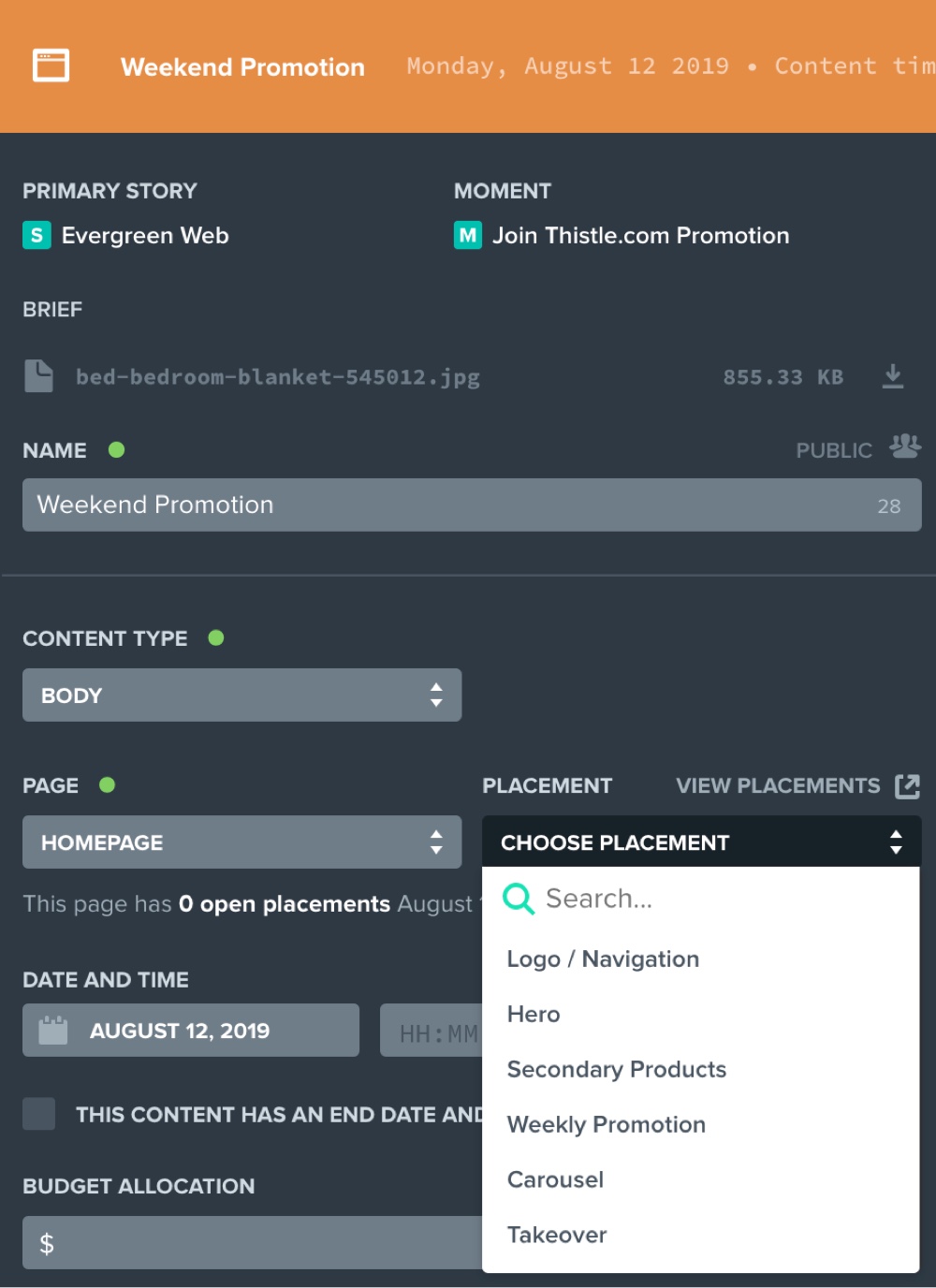 View Placements
Timelines
Preview the days worth of content and where it will be seen by your community.
Navigate to Timelines.
Click "Placements" - located in the middle of the header.
Hover over the placement row, then click the preview icon
Or
Click on a piece of content, then click "View Placements"
Note: Accounts are ordered using their ID numbers, i.e. the oldest ID is displayed at the top and the most recent appears at the bottom. Content within each account is ordered by start date with the earliest content appearing at the top and the latest at the bottom.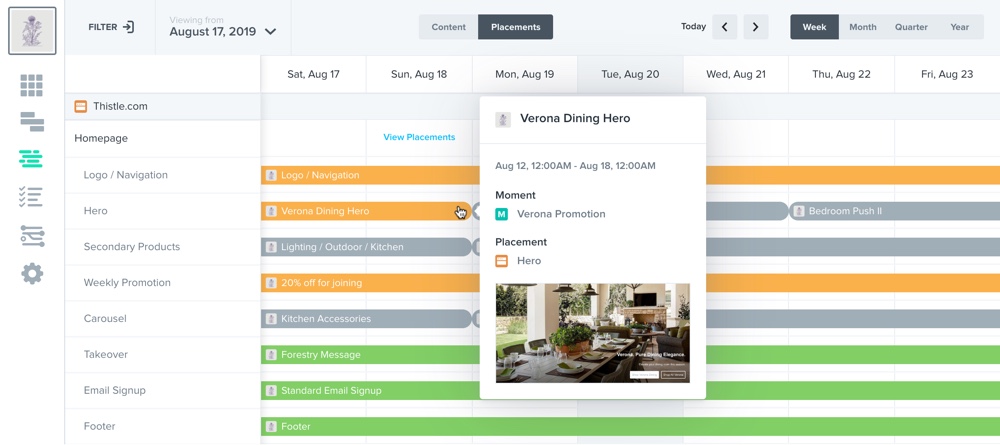 Placement Preview
From the Composer or Timelines, view a preview of the content scheduled for a specific day, export a CSV file, and filter content.
Tip: By default, content will be displayed individually though it can be stitched together by selecting seamless from the header dropdown.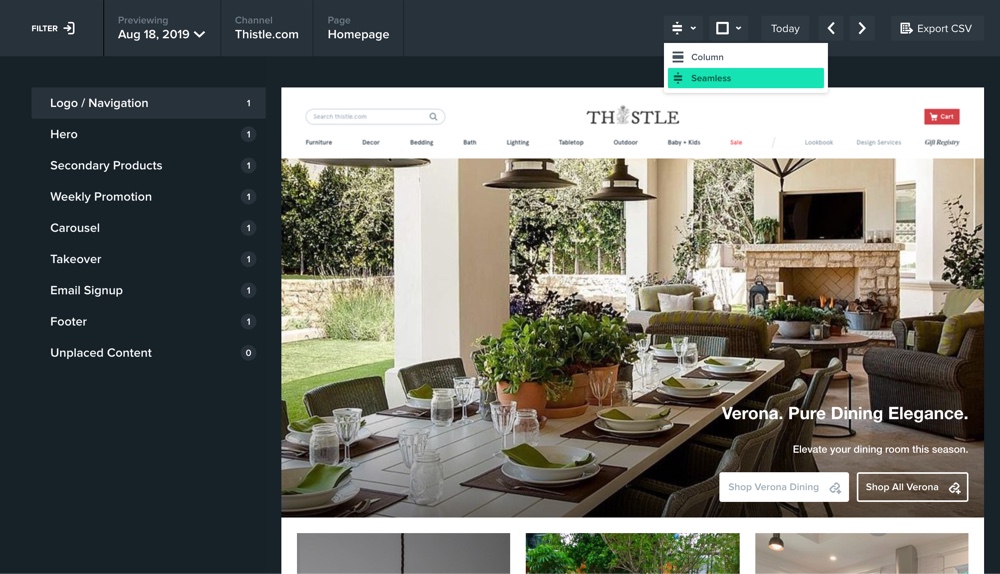 Manage Placements
Before your team starts using placements, an admin will need to add one, or many, to accounts in the Admin Dashboard.
Note: An admin account is needed to manage placements.
Add Placement
Hover over the sidebar, then click ⋮, located next to the Opal logo.

Click "Accounts".
Find the account you would like to use.
Click the Placements icon, a stack of 4 lines.
Click "Add Item" and enter the placement name - there is a 30-character limit.
To rearrange a placement, hover over the placement, then click, drag, and drop via the up/down arrows located on the right-hand side of the placement.
Click "Done."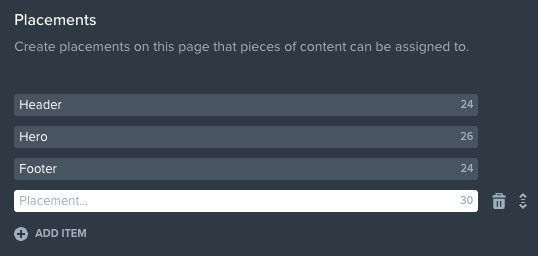 Delete Placement
Hover over the sidebar, then click ⋮, located next to the Opal logo.

Click "Accounts".
Find the account you would like to use.
Click the Placements icon, a stack of 4 lines.
Hover over the placement you wish to delete.
Click the trash icon.
Click "Delete Placement."
Click "Done."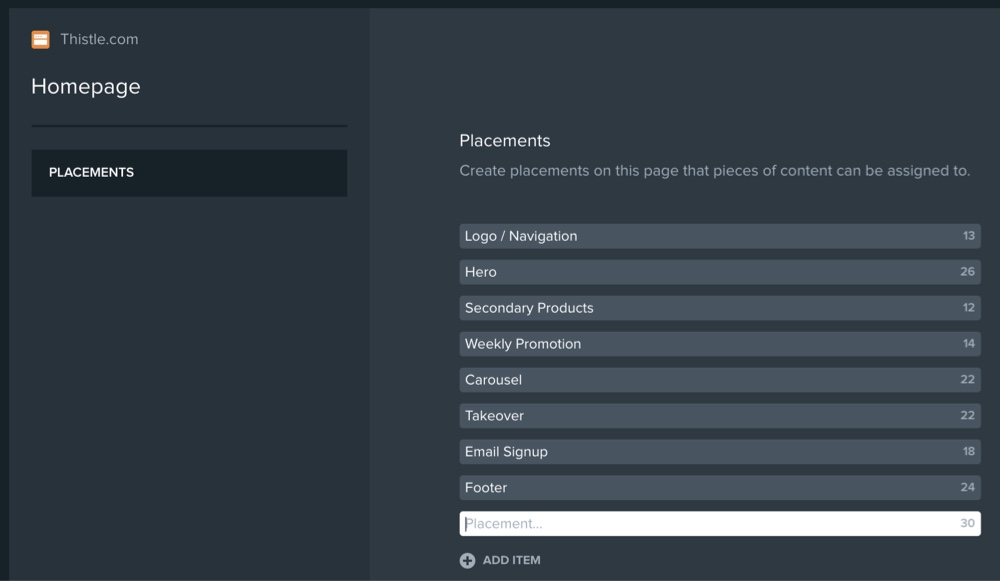 Previous | Next